Six thousand people from around the world have just started the Knight Center's newest Massive Open Online Course (MOOC) to learn about "product thinking," an emerging discipline in journalism that has had an impact on media outlets that have moved from being mono-product to multi-product companies.
"Product Strategies for Journalism: How to align editorial, audience, business and technology," began on Aug. 23, but there's still time to register and catch up!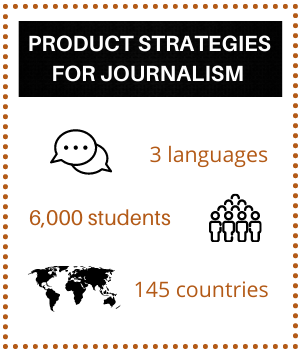 The course is available in three languages, with each language being taught by a different instructor: Adriana Lacy (English), Mariano Blejman (Spanish) and Paty Gomes (Portuguese).
Click for more information and instructions on how to register in English, Spanish orPortuguese.
"Product thinking radically transforms the way that your newsroom operates and prioritizes," said English course instructor Adriana Lacy. "Having dedicated people in your newsroom focused on product thinking and management sets up your newsroom to take an audience-first approach to storytelling and information in new and innovative ways."
In the course, students are learning tools and concepts to create and maintain sustainable journalistic products.
"In the past, a newspaper, for example, was basically just one product. Now a newspaper encompasses many products, in addition to its print edition. The newsroom has to manage multiple products, such as websites, apps, podcasts, newsletters and its presence on third-party platforms," says professor Rosental Alves, founder and director of the Knight Center. "The management of all those products requires an integration of editorial, audience, business and technology in new ways that are taught in this MOOC."
This massive online course is offered by the Knight Center for Journalism in the Americas, in partnership with News Product Alliance (NPA), thanks to support from Google News Initiative (GNI).
"We were lucky to find three journalists with first-hand experience who were capable of teaching this course in English, Spanish and Portuguese. And we are grateful to NPA and GNI for their support to make this course possible," Alves said. "In the first days of the course, it was immediately clear that the participants of the course were learning a lot and engaging with their colleagues from around the world and the instructors."
Like all Knight Center courses, this MOOC is asynchronous, meaning you can complete the course activities on the days and at the times that best fit your schedule. There are recommended deadlines so you don't fall behind.
So, don't waste any time! Register today for the course in your choice of language: English, Spanish or Portuguese!