By Teresa Mioli
September 28, 2023
Building on the success of its previous programming and training, a network of journalists working to further diversity, equity and inclusion (DEI) in the profession is hosting the third Latin American Conference on Diversity in Journalism.
The Network for Diversity in Latin American Journalism (REDIPE in Spanish) is organizing the free online conference for Oct. 20 to 21, 2023. It's supported by the Knight Center for Journalism in the Americas. Registration is required and is now open.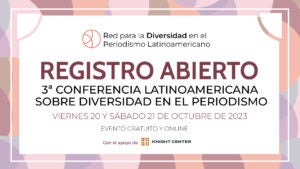 The conference, which will be held in Spanish, will focus on five main topics:
Journalism as a form of resistance against threats to human rights
Coverage of children
Defense of territory and Indigenous communities and their cultures
Importance of new narratives and working together in networks
Individual freedoms and sexual reproductive rights
"Our objective is to incorporate a transversal viewpoint into these topics by involving journalists and specialists who can address these issues from the perspectives of gender, LGBTQ+ community, anti-ableism, anti-racism, and diversity initiatives," said network co-founder and Peruvian journalist Lucia Solis.
Co-founder and Mexican journalist Mariana Alvarado also emphasized the importance of including a transversal viewpoint.
"Rather than discussing topics by groups [as in previous conferences], we are going to talk about topics that affect all groups and in an intersectional way," she said.
Alvarado said conference organizers were driven by the suggestions of participants from previous conferences, feedback from a webinar series held over the last 10 months, personalized training carried out with media outlets, and monthly network member meetings.
The Knight Center, with the support of the Google News Initiative, organized the first Latin American Conference on Diversity in Journalism in March 2021 and the second in September 2022. In fact, the Network for Diversity in Latin American Journalism emerged as an idea out of this second conference, Alvarado said. It has taken over as the organizer for this third conference.
This October's conference will feature speakers from across the region who focus on LGBTIQ+ and gender perspective issues, Afro-descendant populations, Indigenous peoples, people with disabilities, and migration.
"At REDIPE we are very clear about the importance that people who practice journalism can contribute and grow together. In this third conference, we decided that something very valuable was being able to get together to learn about the processes behind journalism projects and reports," said network co-founder and illustrator Gogo Ortiz.
"Each panel is designed from a diversity perspective so that we can talk about the contexts that exist in Latin America, which is why we looked for journalists whose work has new narratives, different approaches and who tell stories from a more empathetic and human way," she continued.
For Solis, continuing DEI efforts in Latin American newsrooms is of the utmost importance.
"It is absolutely fundamental if we want to continue supporting the transformation of coverage and dynamics in Latin American newsrooms, [a transformation] that is being claimed by current journalists, editors, and other professionals within media outlets, as well as by audiences in general," she said. "As REDIPE LatAm, our aim is to provide training and guidance regarding diversity, equity, and inclusion in journalism; also, to plant the seed that will initiate conversations about the significance of these principles in enhancing the quality of journalism, making it more diverse, representative, and impactful, especially for vulnerable communities."