By Teresa Mioli
September 30, 2022
Nearly 1,000 journalists took our course with instructor Ben Kreimer to learn how photogrammetry enhances reporting by immersing readers and viewers in the story.
Now, that massive open online course (MOOC), "Introduction to photogrammetry in journalism: Capturing your world in 3D," is available as a self-directed course and can be taken at any time, from anywhere in the world, for free.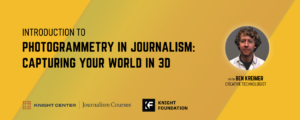 During the course, which ran from June 27 to July 24, 2022, students learned how media outlets like TIME, PBS, and The New York Times are using photogrammetry. The technology creates three-dimensional replicas from photographs.
"I was struck by how the course was able to effortlessly bring together people from around the world with an equally diverse array of journalism interests, technical skill sets and skill levels," said Kreimer, a creative technologist who's an expert in photogrammetry. "These different forms of diversity were most apparent in the [discussion] forums where people shared their ideas and observations and connections to their work and beyond. Once the course began I became a participant myself. Every time I went into the forums I was learning from and getting new ideas along with everyone."
The course, which is sponsored by the Knight Foundation, is separated into four modules that introduce the science and technology of photogrammetry and how it's used in journalism and storytelling. The modules also cover the practical do's and don'ts of photogrammetry capture, and they explain how to share your photogrammetric material with audiences.
Each module includes video classes, readings, exercises, quizzes and discussion forums.
Kreimer said the forums became a place for students to share story ideas, "but the most memorable student forum posts focused on the realization of having learned a new three-dimensional documentation superpower."
"Students shared how learning photogrammetry and successfully using the process in Module 3 were 'empowering' and 'aha!' moments," he continued. "One student shared that learning the photogrammetric process made her see objects, and the world around her, from a different perspective as she imagines photogrammetrically capturing what she sees."
With the self-directed version of the course, people will have access to video classes, readings and optional resources in an ongoing way. So, take advantage of this opportunity to grow your journalism toolkit and start learning at JournalismCourses.org.