By Teresa Mioli
March 2, 2022
Seventy-three percent of women journalists surveyed for a UNESCO-commissioned study reported experiencing online violence. A quarter said they had received threats of physical violence.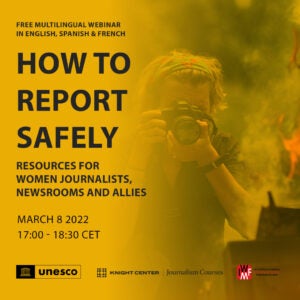 To help raise awareness for the threats women journalists face around the world, and promote concrete solutions, the Knight Center, International Women's Media Foundation (IWMF) and UNESCO are jointly organizing a free, multilingual webinar on International Women's Day, March 8 at 10 a.m. U.S. Central Time.
The webinar, "How to Report Safely - Resources for Women Journalists, Newsrooms and Allies," will be a discussion between journalists, safety trainers and newsroom representatives on the kinds of threats faced by women journalists and the urgency in facing them. They will also provide specific instruments to promote a safer working environment for women journalists and media workers.
The discussion will be simultaneously interpreted into English, Spanish and French. Registration via Zoom is required, so sign up today!
"Around the world, women journalists are facing an avalanche of misogyny and intimidation, designed to silence their reporting and undercut trust in journalism," said Guilherme Canela de Souza Godoi, chief of section Freedom of Expression and Safety of Journalists at UNESCO and webinar speaker. "The safety of women journalists is a freedom of expression concern for us all, and we have a responsibility to ensure that their voices are heard loud and clear. That is why UNESCO and partners work to develop concrete instruments that newsrooms, journalists and other stakeholders can draw on to ensure that women journalists can report safely."
All speakers include:
Nadine Hoffman, deputy director, International Women's Media Foundation (IWMF)
Guilherme Canela, chief of section for freedom of expression and safety of journalists, UNESCO
Prof. Rosental Alves, UNESCO Chair in Communication and the Knight Chair in Journalism at the Moody College of Communication's School of Journalism at the University of Texas at Austin.
Alison Baskerville, photographer and journalism safety trainer, course instructor
Sandra Chaher, director, Comunicación para la Igualdad , course instructor
Elodie Vialle, journalism safety consultant, course instructor
Tatiana Mossot, journalist, founder of the MaMa Project
Patricia Mayorga Ordoñez, investigative journalist
Yemile Bucay, risk and security manager, Buzzfeed
Media organizations, journalism schools, newsroom managers, journalists and other interested members of the public are invited to register for the webinar.
In concert with the March 8 discussion, UNESCO, IWMF and the Knight Center are launching French and Spanish self-directed courses titled "How to report safely: Strategies for women journalists and their allies." These versions join a self-directed course in English already on the Knight Center's JournalismCourses.org learning platform. They can be taken at any time, by anyone around the world. Each has four modules with video classes and transcripts, as well as readings and other resources.
"Women journalists face myriad threats online and offline not just because of their jobs, but because of their gender identity," said Nadine Hoffman, deputy director of IWMF and webinar speaker. "UNESCO, IWMF and the Knight Center at UT Austin have collaborated to develop safety courses specifically addressing these risks. We want women reporters to feel that they can take control of their security, with practical tips and strategies for staying safe on assignment, online, and even inside their newsrooms."
This webinar and new self-directed courses build on a previous massive open online course (MOOC) in English. Taught by Alison Baskerville, it was launched in May 2021 and attracted more than 1,200 students from 121 countries. The self-directed courses were created with material from this MOOC.
"We are delighted to collaborate with UNESCO and IWMF on this important event and on the launch of our two new Spanish and French courses aimed at helping women journalists and their allies report safely," said Mallary Tenore, associate director of the Knight Center. "We hope the webinar will foster engaging discussions about how to report safely, and that journalists will come away with newfound ideas and resources that they can implement in their own work and newsrooms."
Join us in marking International Women's Day by calling attention to the work of women journalists and the challenges they face while performing their jobs. Register for the webinar today.