By Teresa Mioli
January 20, 2023
The newly formed Red para la Diversidad en el Periodismo Latinoamericano (Network for Diversity in Latin American Journalism) is hosting a series of four webinars to promote diversity in Latin American newsrooms and the news and content they produce.
"We are carrying out these webinars as part of the activities that the Network for Diversity in Latin American Journalism seeks to support the training of journalists and the media," said network member Mariana Alvarado. "The intention is to share knowledge and information from colleagues who have developed expertise in coverage of diversity issues and thus increase coverage of diversity with a human rights perspective in newsrooms. Also, to encourage newsrooms to be more inclusive".
The network emerged at the end of 2022 with the help of the Knight Center for Journalism in the Americas and Google News Initiative, which are sponsoring this webinar series.
Since its inception, it has held conversations to plan its structure and future activities. It has also carried out training on diversity with media outlets in Latin America.
Each webinar will focus on a designated topic related to diversity, equity and inclusion (DEI), which Alvarado said was chosen considering feedback from the conversations and training.
During the webinars, experts will provide information, tips and suggestions and an instructor with the network will moderate the discussion and field questions from the participants.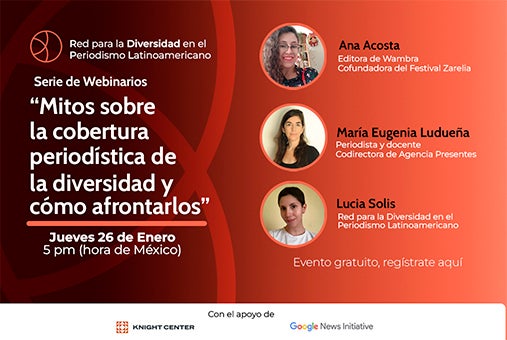 The first webinar, "Myths about journalistic coverage of diversity and how to deal with them," will take place on Jan. 26 at 5 p.m. CST.
Peruvian journalist and gender editor Lucia Solis will moderate a discussion between Ana Acosta, editor of Ecuadorian community media outlet Wambra and co-founder of Festival Zarelia, and María Eugenia Ludueña, journalist, columnist, professor and co-director of Agencia Presentes.
The second webinar, "How to include more LGBTQI+ individuals in newsrooms," is scheduled for Feb. 9 at 5 p.m. CST.
Pilar Cuartas, coordinator of gender and diversity at Colombia's El Espectador, will lead the discussion with Mariana Escobar Bernoske, gender and diversity journalist at El Espectador, and Felipe Morales Sierra, who works on the judicial beat and at La Disidencia, the sexual diversity channel at El Espectador.
The third webinar is "Racism and discrimination in the coverage of migration, how to address them" and takes place Feb. 23 at 5 p.m. CST.  
Mexican journalist Mariana Alvarado will moderate the webinar with Perla Trevizo, a Mexican journalist who is an expert in migration and writes for ProPublica and Texas Tribune, and Nadia Sanders, a Mexican investigative journalist.
The fourth and final webinar, "Gender perspective and how to achieve intersectional coverage," is scheduled for March 9 at 5 p.m. CST. Registration is now open. (Click here to find the time in your city)
María Teresa Juárez, Mexican screenwriter and journalist, will lead the discussion with Aminetth Sánchez, investigative journalist and director of La Lista, and Alexa Castillo Nájera, journalist and sexologist.
As for the future of the network, Alvarado said the plan is to continue offering training and to grow with more journalists interested in its mission.
"Since October 2022 we have been offering training on diversity for different newsrooms in Latin America and while we will carry out these webinars, we will continue giving training. The idea is to increase training efforts on these topics," she said. "We also seek to grow the network by integrating more journalists interested in promoting coverage of diversity issues and in encouraging newsrooms to be more inclusive. We will also be producing some audiovisual materials to publish with concrete tips and suggestions on how to improve diversity coverage."
Those who attend the 4 webinars will be able to receive a participation certificate from the Knight Center for Journalism in the Americas and the Red para la Diversidad en el Periodismo Latinoamericano.