Thinking of creating your own newsletter?
You're in luck! A popular Knight Center course on the topic is now available online and can be taken at any time, at your own pace.
"Newsletter strategies for journalists: How to create, grow & monetize newsletters" teaches how to launch and maintain a newsletter through a standard product life cycle.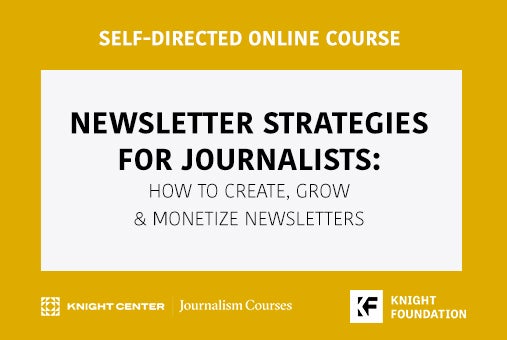 The course was first offered in English as an instructor-led Massive Open Online Course (MOOC) and is now available as a self-directed course on the JournalismCourses.org platform.
The MOOC attracted 4,170 students from 124 countries and ran from Feb. 22 to March 21, 2021. It was sponsored by the Knight Foundation, which also made the self-directed version possible.
Course instructors are Joseph Lichterman, lead editorial and digital strategy for The Lenfest Institute for Journalism; Caroline Porter, media strategist and researcher; and Emily Roseman, research director for the Institute for Nonprofit News (INN).
"It was especially neat to witness the collaborative spirit of the students," Porter said. "Whether sharing their own experiences with newsletters or offering ideas for others' newsletters, students were gracious, generous and full of insights. It was also terrific to see how international the student body was, and how varied students' backgrounds were."
The course is divided into four modules:
Choosing the right newsletter
Launching a newsletter
Growing your readership
Improving your newsletter
The modules consist of video classes, guest interviews, readings and exercises.
"I was delighted to see firsthand just how interactive online learning can be," Porter said of her experience as an instructor. "The experience also re-emphasized for me the value of modular learning that can adapt to meet learners' unique needs."
Ashley Hoffman, newsletter strategist at The Philadelphia Inquirer in the U.S., took the course to fill gaps in her own knowledge.
"I knew the course's instructors had not only the current expertise to fill [those gaps], but also a true curiosity and commitment," she said.
After taking her first course from the Knight Center, she learned that developing and forming a deeper connection with readers is a constant process.
"You can serve readers with an experience that nourishes them at one time, but the enduring relationship takes nurturing for the long haul," Hoffman said.
Alexandra Cardinale is managing editor of the newsletter Case by Case, which helps journalists pitch stories for publication. She took the MOOC at the recommendation of her colleague, so they could learn strategies for growth.
One of the lessons she took from the course was being consistent with regularly scheduled programming.
"I was certainly more willing to experiment regularly after taking [this class] because it meant I had dedicated time for my newsletter that was on top of normal content creation," she said.
To develop your own new insights, take the self-directed version of the Knight Center's newsletter course so you can learn to launch, maintain and grow your own publication.
And along with the newsletter course, there are more than 35 other courses you can take at your own pace on JournalismCourses.org, the Knight Center's online learning platform.