By Teresa Mioli
June 14, 2022
Nearly 5,500 students from 59 countries seized the opportunity to learn how to start and sustain their own journalism ventures in a free online course from the Knight Center for Journalism in the Americas, Ajor and SembraMedia.
"Entrepreneurial Journalism: Sustainability Strategies for Independent Digital Media" wrapped up on May 15, 2022 after four weeks of learning about news startups and their challenges becoming sustainable. The course, offered for free thanks to generous support from Climate and Land Use Alliance (CLUA) and Google News Initiative (GNI), was offered in Spanish and Portuguese.
It is now available as a self-directed course in Spanish and Portuguese, and can be taken at any time through the JournalismCourses.org online learning platform.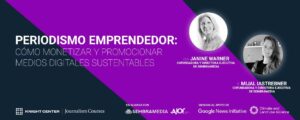 During the MOOC, students learned how to create or improve sustainable business models, how to better understand their audiences, how to develop and diversify revenue streams, how to create a solid basis for the future of their projects, and more.
"We believe that the elevated interest in this course has to do with the fact that in recent years, the industry has given rise to a conversation that we have had at SembraMedia for more than six years: It is essential to find ways that allow journalism to be supported and at the same time guarantee its independence," said Sofía Alvarez, director of education at SembraMedia.
"The only way to achieve this is to understand what models exist, what resources the teams need and what are the experiences of other media that we can learn from."
The main instructors of the course were Janine Warner and Mijal Iastrebner, co-founders and executive directors of SembraMedia, an organization that helps independent digital media develop sustainable business models. For the course in Portuguese, they were assisted by Marcelo Fontoura, a professor of digital and data journalism who has done extensive research on digital media organizations.
SembraMedia instructors Abraham Torres, James Breiner, Sebastián Auyanet, Miguel Loor, Naimid Cirelli and Natalie Van Hoozer also contributed to the course by sharing their experiences and knowledge about entrepreneurial journalism.
Alvarez said that during the course, the SembraMedia team was able to confirm concerns and challenges it had identified in previous research. Entrepreneurs expressed concerns about financing, high levels of competition and understanding audiences.
"In this sense, this course offered something unique: sharing information, based on evidence, about the different sources of income that a media outlet can access or create; emphasizing the value proposition to stand out in a competitive market; and focusing on the strategic selection of KPIs according to each project," she said.
Some students took the opportunity to work on their own existing or developing entrepreneurial journalism projects during the course.
Venezuelan journalist Mariela Teresita Díaz Romero worked on the business plan for her project on literary journalism, Letra Consagrada.
"The most important thing I've taken away is an expanded vision of entrepreneurial journalism — that it is possible (not easy, but not impossible)," she said. "Various ideas to find a way of financing, and fears and personal limitations, were also cleared up."
Boris Weimar Míguez Ríos of Uyuni, Bolivia, looked at sustainability for Radio Cabina365, a project he started in 2020 during the COVID-19 pandemic.
"[In this course,] I learned everything, but mainly how to monetize! In fact, I got advertising for my online radio during these weeks," he said. "Although I still have a lot to refine, especially managing the CANVAS model well and looking at other income and sustainability options."
While his radio program originally started with music, he added local and national news coverage in 2021.
"My idea this year is to continue serving the faithful audience that has grown quite a bit (internationally), with useful, interesting information, selected music 24 hours a day, and good programs and production," Míguez Ríos said. "And since I no longer consider it a hobby, well, I want to continue investing and strengthening the radio, and make it sustainable! I am more encouraged and enthusiastic because I got the contacts and support of colleagues I met in this course."
Other projects from students in the MOOC included one-person journalism ventures, digital sites focusing on science, technology, business and innovation, and more.
Thanks to the support of CLUA and GNI, certificates of completion for this course were free.
Upon completion of the course, Alvarez said the SembraMedia team encourages students to think about sustainability in a comprehensive way.
"Making a media outlet sustainable is not only coming up with the necessary funds, but also learning to manage (strategically plan) human resources, talent, technology and projects," she said.
So, start on your own journey in entrepreneurial journalism and take the self-directed version of this exciting course in Spanish or Portuguese.