By Teresa Mioli
July 21, 2021
For the first time since they were founded in 1938, all Maria Moors Cabot Prizes will go to women journalists.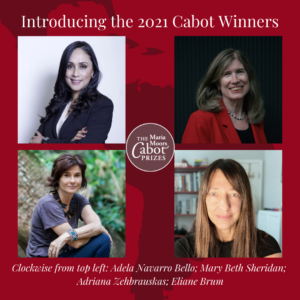 The 2021 recipients are Eliane Brum, a Brazilian freelance journalist; Adela Navarro Bello, general director of Mexican magazine ZETA; Mary Beth Sheridan, Mexico and Central America correspondent for The Washington Post; and Adriana Zehbrauskas, U.S.-based Brazilian photojournalist.
Special citations go to Mexican reporter Regina Martínez Pérez, who was killed in 2012, and The Cartel Project, a collaboration with a multinational team of reporters who picked up where her investigations left off.
Another special citation goes to the team of Honduran site Contra Corriente, "for their invaluable, intrepid reporting in a time of great crisis" for the country.
The Cabot Prizes, given by the Columbia Journalism School in the United States, "honor journalists and news organizations for career excellence and coverage of the Western Hemisphere that furthers inter-American understanding."
Winners receive gold medals and a $5,000 honorarium and will be celebrated on Oct. 12.
"With threats against the press on the rise in the Americas, including physical attacks and cyber-harassment targeting women reporters, I welcome the Cabot Jury's selection of four outstanding female journalists to receive this year's Cabot Prizes," said Columbia President Lee C. Bollinger, according to a university press release. "On behalf of the entire University, I would like to offer my congratulations and my thanks to the honorees for their talent and courage."
Prize recipient Eliane Brum, a 30-year veteran in journalism, was recognized for her coverage of the Amazon and other social and environmental issues in Brazil and called "one of the most respected voices in Brazilian journalism" by the Prizes.
"I would be very honored to receive this award at any time. But, it is particularly significant at this moment when the journalism profession is under attack," Brum told LatAm Journalism Review (LJR). "That is particularly true in Brazil, which has its worst president in history, a man who frequently attacks journalists, especially women journalists, a man who is largely responsible for the half million Brazilian COVID-19 deaths, a man who has accelerated the destruction of the planet's biggest rainforest."
"For me, a freelance journalist  based in the interior of the Amazon who writes about forest people and the link between the climate crisis and the rights of humans and non-humans, this award is a very important recognition of my work and a powerful way to draw attention to what is happening in Brazil," she continued. "In this dark moment, when so many people in so many countries are suffering the terrible consequences of climate breakdown, there are few opportunities to feel joy. But, joy is exactly what I feel after being selected for this amazing prize. My joy is even bigger because I'm on the side of wonderful women!"
Navarro, called a "powerhouse of journalism in the Americas," was nominated by her staff at ZETA, which investigates corruption, abuse of power and organized crime despite being targeted by attacks and smear campaigns.
Sheridan was recognized for using "her extensive experience to create nuanced stories that help explain the region in gripping narrative prose." She is veteran correspondent for the U.S. press and news agencies who has covered countries across Latin America.
"It's such an honor to be a recipient of the Cabot prize, and to be part of this fraternity – and sorority! – of distinguished journalists who have covered Latin America, Sheridan told LJR. "The list of past winners includes so many people who have inspired me throughout my career."
Photojournalist and documentary photographer Zehbrauskas was praised for her respect and humanity when portraying the marginalized and those suffering. The Prizes noted her "illuminating portraits of people in desperate circumstances...known for their intimacy and empathy."
"It's a huge honor to be recognized with this prize, but most importantly, it speaks to the power that photojournalism has to build bridges and bring understanding through empathetic and compassionate visual stories," Zehbrauskas told LJR."I'm humbled to share the prize with such an incredible group of journalists and I receive it in the name of all my brave colleagues who face extremely difficult and often harrowing work conditions daily."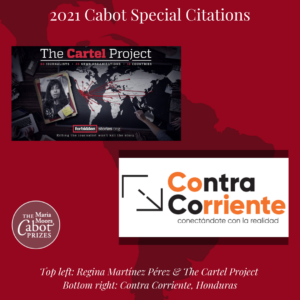 The posthumous winner of the special citation, Martínez Pérez was an intrepid investigative reporter in one of the most dangerous places for journalists. She was killed in Veracruz, Mexico in 2012 and the intellectual authors of her murder have still not been punished. As part of The Cartel Project, reporters from around the world investigated her murder, as well as organized crime and its political connections.
The Prize called both Martínez Pérez and The Cartel Project enduring examples "of resistance and defiance in the face of adversity, pain and death."
"Forbidden Stories and all of the Cartel Project partners are extremely honored that this work to continue the work of Regina Martinez has been recognized by the Columbia Journalism school," the Forbidden Stories team told LJR. "Since the beginning of our collaborative adventure nearly four years ago, we have said it over and over again: Killing a journalist won't kill the story."
Honduran site Contra Corriente, also a recipient of the special citation, is only four years old, but reports on drug trafficking, criminal violence, environmental destruction and attacks on Indigenous rights, as noted by the Prizes. The Prize specifically noted how it "filled a void" in migration coverage.
"In Honduras, a country controlled by mafias, doing journalism can be a huge challenge. With the closure of democratic spaces, with the accelerated path towards autocracy, Contra Corriente journalists, most of them very young and enthusiastic, learn every day to protect themselves in the rigorous and ethical exercise of their profession," Jennifer Ávila, co-founder of Contra Corriente, told LJR.
"For these journalists, who have bet on this small newsroom that tells great stories and also does great investigations, this mention is one more incentive to continue, a push and also a way of reminding ourselves that what we do is a great responsibility," she continued. "Contra Corriente is a space built thanks to those journalists who are always looking for the truth, but also to collaborators, artists, local and foreign volunteers, administrative staff, network managers, programmers and webmasters, crónistas and a huge support network in Latin America that protects us and encourages us to continue reporting on this country."
Members of this year's Cabot Prize Board included Rosental Alves, Hugo Alconada Mon, Juan Enríquez Cabot, Carlos Dada, Gustavo Gorriti, Marjorie Miller, Julia Preston, Giannina Segnini, Elena Cabral, Tracy Wilkinson and Abi Wright.
*Editor's note: Rosental Alves, Cabot Board Chair, is founder and director of the Knight Center for Journalism in the Americas, which publishes LatAm Journalism Review.