This year's International Conference on World Press Freedom Day, which took place from April 29 to May 3, returned to Windhoek, Namibia. It was in that city, 30 years ago, that the Windhoek Declaration was signed, which highlighted journalism as the basis of democracy and gave rise to the creation of World Press Freedom Day.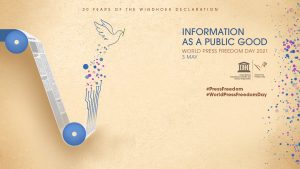 To return to its origins, World Press Freedom Day, celebrated every May 3 since 1993, chose this year's theme as "information as a public good," which emphasizes its importance to all people. The topic also serves to explore what else can be done to strengthen journalism and advance transparency and empowerment of all people by improving the production, distribution and reception of content.
"The aim is to draw attention to the special role of journalism in producing news as verified information in the public interest, and to how this depends on a wider ecosystem which enables information as a public good," UNESCO said.
LatAm Journalism Review (LJR) spoke with UNESCO Director General Audrey Azoulay about advances in recent years, the situation for journalists on the American continent and the organization's alliance with the Knight Center in seeking to strengthen journalism and reporting.
LatAm Journalism Review (LJR): It has been 30 years since the Declaration of Windhoek, the origins of World Press Freedom Day, in which the importance of journalism as the basis of democracy was emphasized. How do you evaluate the global progress on this issue in the following years – that is, regarding the importance and protection of journalism? Do you think the situation in the Americas, including Latin America and the Caribbean is particularly worrisome?
Audrey Azoulay: Over the last thirty years, we have seen some great developments in access to information, for example. The number of countries with laws guaranteeing this right increased from twelve in 1991 to almost 130 in 2021. We have also seen encouraging developments regarding journalist safety, although the global situation remains concerning. UNESCO recorded 218 journalist killings in the last three years alone and, shockingly, almost nine in ten cases still go unpunished.
According to our 2020 Report on the Safety of Journalists, Latin America and the Caribbean was the deadliest region for journalists in 2019, accounting for four in ten of all killings. It was the second deadliest in 2018, with just over one in four killings.
However, with UNESCO's support, several countries have adopted progressive legislation on freedom of expression and the safety of media workers. Since 2013, in partnership with the Knight Center, we also have created capacity-building programs to empower judicial actors in Latin America and the Caribbean to protect the safety of journalists and ensure accountability for those who attack them.
More generally, since 1991, the entire game has changed. The Internet and social media have opened up incredible new opportunities but also created major challenges, due to unequal access to technology, Internet shutdowns, and the spread of disinformation and hate speech. The media landscape has been completely upended – some outlets are thriving, but many are struggling, and the pandemic has exacerbated this.
Thirty years later, we need to take stock of these changes and propose a way forward. This is why we are returning to Windhoek, Namibia, for this year's World Press Freedom Conference.
LJR: One of the imperatives that stands out in this year's celebration – "Information as a public good" – is media literacy, which would lead people to recognize and value the role of journalism. More precisely, recovering the audience's trust is a large problem in today's world. What do you think the road to improving trust looks like? What proposals or suggestions does UNESCO have that will work to achieve this?
AA: During the pandemic, we have witnessed two simultaneous phenomena: as misinformation and disinformation increased, more people turned to traditional media sources to gain trustworthy information.
This is an example of media and information literacy at work: by equipping us with essential critical thinking skills, it allows us to sort through and evaluate the information we receive. The dramatic digital transformations we have seen in recent years mean we must do much more to empower individuals to think more critically about information – where it comes from and how it is distributed. For years, UNESCO has worked towards integrating media and information literacy into national policies and school curricula, and we just launched a new Curriculum in response to the latest technological shifts. We hope it will become a resource that enables everyone, of all ages, to gain these crucial twenty-first century skills.
Secondly, we must support professional journalists so they can keep doing their job, supplying accurate and reliable information. This means focusing on journalist safety and the economic viability of media outlets.
Thirdly, we need to protect the virtual space in which content circulates, by promoting accurate information and fighting disinformation and hate speech. UNESCO is launching a set of standards on the transparency of Internet companies to shed light on this complex puzzle.
LJR: Disinformation has undoubtedly been one of the biggest challenges in recent years. It has become even more apparent since the COVID-19 pandemic began, and emphasized the importance of accessing reliable information. UNESCO has teamed up with the Knight Center to offer courses to journalists covering the pandemic and the vaccination campaigns. How does UNESCO expect these courses to help mitigate the problem of disinformation? What do we need to do as journalists or media groups?
AA: Indeed – and I would like to start by thanking our Chair at the University of Texas [Rosental Alves] for such a rewarding partnership.
Through these courses, we have successfully reached over 12,000 journalists in more than 160 countries, building their capacities so they can effectively cover the pandemic, and now with a new course on vaccines. These courses focus on fighting disinformation, verifying information and debunking falsehoods. With this initiative, UNESCO, the WHO, the UNDP and the Knight Center are supporting fair, balanced, and reliable coverage of the pandemic around the world.
Journalists and media organizations should continue to deliver verified and reliable information to the public, promote fact-checking initiatives, and encourage both transparency and accountability. These topics have been covered in the two MOOCs offered and various webinars – the enthusiasm these events have generated among journalists was our best reward.
Disinformation is having a serious impact in other important areas, such as elections, climate change, and perceptions regarding migration. Together with its partners, UNESCO will keep investing to develop relevant tools and knowledge that empower journalists and other media professionals to protect "Information as a Public Good."