By Teresa Mioli
December 9, 2022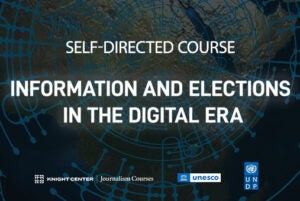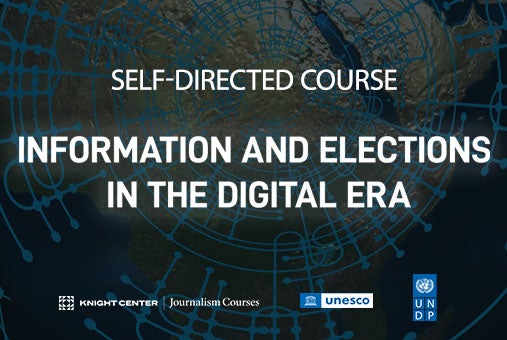 A multilingual course in English, French, Portuguese and Spanish that looks at the impact of the digital era on global elections is now available to take at any time, from anywhere around the world.
"Information and Elections in the Digital Era" was recently offered as a five-week massive open online course (MOOC) organized by the Knight Center for Journalism in the Americas with support from UNESCO and the United Nations Development Programme.
As a MOOC, the training took place from Sept. 19 to Oct. 23, 2022, and reached 5,330 students from 162 countries and territories. All the modules are now available to take as self-directed courses at your own pace and on your own schedule. Additionally, the thousands of students who took the MOOC when it was live can now consult the materials at any time and refresh their knowledge.
Access the self-directed courses using the buttons below!
English French Portuguese Spanish
During the course, students learn standards of freedom of expression and are exposed to recent experiences on how to address disinformation, misinformation and hate speech that spread during electoral processes.
This course is meant for electoral practitioners and electoral key stakeholders, including Electoral Management Bodies (EMBs), Audiovisual Regulatory Bodies (ARBs), Human Rights and Women Rights Civil Society Organizations (CSOs), national and international electoral observers, political actors, academic and fact-checking organizations. It is also open to media workers, media representatives and journalists, including community media and citizen journalists.
Albertina Piterbarg, an electoral expert and journalist working at UNESCO's Freedom of Expression and Security of Journalists section, is the lead instructor of the course and is joined by assistant instructors in the French, Portuguese and Spanish courses. Students also hear from more than a dozen guest speakers.
Piterbarg said participation and engagement among students of the MOOCs was high.
"They contributed with good, intelligent comments based on their experience," the instructor said. "It was evident that they were interested and motivated by the topic, but also that they were very concerned about the challenges that the digital era implies for electoral processes."
Anastasia Batten, assistant director of the Defending Democracy Unit at the Australian Electoral Commission (AEC), described the course as "exceptional and far-reaching."
"A huge focus for the AEC is electoral mis- and disinformation, including how to engage with online media platforms to tackle the issue," she said. "The course, and all of the required and supplementary articles, will assist to inform the way the AEC considers its approach to, and stakeholder engagement on, electoral mis- and disinformation and relevant matters."
Agustin Pradillo signed up for the course due to his interest in electoral processes and the opportunity to learn and share with his communications students in Mexico.
Among the lessons he will take away from the course is how to treat information regarding electoral processes, "especially when visualized through communication and information."
"It is essential to see the efforts being made by both international organizations and national organizations to give each time greater clarity and certainty to the electoral process," he said.
Students who take advantage of the self-directed courses will be able to access video classes, presentations and transcripts, as well as readings and optional resources.
"The knowledge gained in the course will help [students] to better understand the issues at stake and to seek more appropriate solutions, as well as to plan ahead and ask for specialized help if needed," Piterbarg said.
So, seize the opportunity to hear from experts and further your understanding of how electoral processes function in the digital era. Begin the course today, in your language of choice!