Solutions journalism, regenerative journalism, constructive journalism, impact journalism, human journalism, journalism with purpose, useful journalism, service journalism.
These are just some of the names that a not so new way of doing journalism –which has found a foothold in Latin America– has received in recent times. Journalism that, instead of only providing news about the latest economic, social, cultural and/or political events of the present day, proposes a purposeful –and often positive– look at the problems it reports on. Journalism that focuses on highlighting initiatives that work to counteract the negative consequences of conflicts and/or suggest ways to improve social problems, and thus contribute to a better quality of life and coexistence in the community.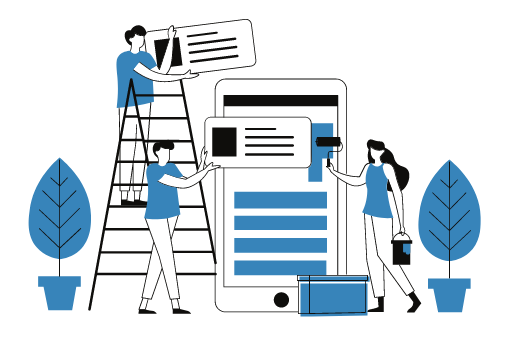 Just as there is no general consensus around the conceptual boundaries of this journalistic approach, there is also no formula for putting it into practice. Thus, what happens is that each media outlet adapts its vision and practices according to its own interpretation of what it understands by "regenerative," "positive" or "solutions" journalism (or any of the other concepts available).
Consequently, the result ends up being a heterogeneous mosaic, whose common point is reduced to the material with which its pieces have been made: the will to forge a journalism that transcends the paradigm of communicating only bad news and, instead, offers an alternative for a growing number of readers seeking to consume other types of content.
In Latin America, the reception and growth of solutions journalism has been notable. In particular, the Gabo Foundation, in alliance with the U.S.-based Solutions Journalism Network, began to promote this journalistic approach through its network in 2019. Thus, it created a section within its website exclusively aimed at disseminating solutions journalism: it regularly publishes advice and resources for journalists, and shares articles from Latin American journalists and media that implement this journalistic approach in their investigations. In turn, it also organizes workshops and training meetings, and awards prizes and scholarships to promote journalism with social impact.
One of the Latin American leaders in solutions journalism is Liza Gross, an Argentine journalist, as well as an editor and expert in media innovation. Currently, in addition to being one of the main trainers of the Gabo Foundation in this journalistic technique, she is part of the SJN staff (where she serves as VP of Practice Change).
When asked about the situation of this journalistic approach in the region, the journalist is optimistic. "With the Gabo Foundation, we have been working in Latin America for three years now, and I must say that I am deeply encouraged by the warm response that solutions journalism had in the region," she told LatAm Journalism Review (LJR).
Gross defines solutions journalism as "rigorous coverage with evidence of systematic responses to social problems." And, she adds: "solutions journalism is a journalistic technique, but beyond that it is a way of seeing the reality that as journalists we portray to offer a more complete and complex panorama to our audiences."
Solutions journalism has had a special reception in Argentina, a country where it has been present for several years and where it continues to expand. For this reason, LJR interviewed two local journalists whose media outlets have become benchmarks for this journalistic approach.
Noticias Positivas: towards a regenerative journalism
Noticias Positivas, founded by journalist Andrea Méndez Brandam in Buenos Aires in 2003, was the first media outlet in Argentina to do solutions journalism. The initiative was born as an independent media outlet, at the invitation of Positive News, a media company founded in 1993 in the United Kingdom, which pioneered this journalistic approach worldwide. According to Méndez Brandam, at that time, concepts such as "CSR" (corporate social responsibility) or "sustainability" were hardly discussed.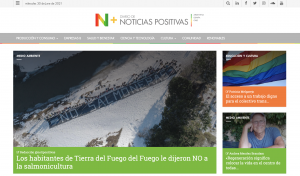 The news and articles published by Noticias Positivas cover a wide variety of topics, in particular: new economies, sustainable habits, environmental protection, education and culture, health and wellness, renewable energies, science and technology and solidarity initiatives, among others.
In 2014, Noticias Positivas became the first media outlet to become a Certified B Corporation. That is, it not only seeks to achieve economic performance, but also commits to generate a positive social and environmental impact in the community.
Since then, the company has continued to grow and expanded into other areas: in addition to the digital news site, it launched a magazine on renewable energy ("Energía Positiva"), created a radio program, and began offering corporate consulting services (N+ Conectas).
In 2019, the team decided to redefine the editorial line and transformed "solutions journalism" into "regenerative journalism." In this regard, Méndez Brandam explained to LJR that "it was necessary to give a twist to the concept, since today it is not enough just to talk about solutions."
The "regenerator" idea places the focus on the notion of transformation –in this case, towards the fulfillment of the Sustainable Development Goals (SDG)– and on the interdependence between sectors of society that interact with similar positive purposes, based on a sense of shared responsibility. To date, the team is made up of 14 people, of which three make up a newsroom located in Madrid.
Red/Acción: "let's do human journalism"
Red/Acción was born in 2018, at the initiative of Carlos "Chani" Guyot, who until then served as secretary general of newsroom at La Nación.
"I set out to choose and embrace another challenge: to explore the frontiers of what is understood as traditional journalism by thinking about what journalism is needed," the founder and current CEO of Red/Acción told LJR. "At Red/Acción, we start from two premises: on the one hand, deactivating the excess of negativity (hence we speak of solutions journalism) and, on the other, to dismantle the broadcast model through journalism that promotes citizen participation."
The motto of Red/Acción is "let's do human journalism." From there arises, among other things, the importance it assigns to interaction with its audiences: from followers on social networks to those who participate as subscribers and members. In this sense, Guyot explains that it has "different universes of participation": surveys on Instagram, bringing up a social problem that allows the audience to give its opinion or even events in which the dynamic takes on the format of a conversation, "but articulated through the journalistic method."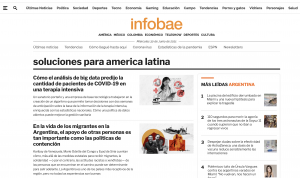 Currently, Red/Acción is made up of a team of 17 people, who work among five areas: web page –where they publish stories that allow understanding of social problems and how they could be solved–, thematic newsletters, social networks, a bimonthly print magazine ("MONO") and a Laboratory of Journalistic Experimentation for journalism students. With the exception of the magazine and some newsletters, which are exclusive products for subscribers, the rest of the content they create is open.
In addition to the above, Red/Acción continues to expand to new audiences. Thus, in May of this year, it launched Soluciones para América Latina (Solutions for Latin America) in alliance with Infobae media. It is a supplement in which Red/Acción journalists publish an article on the Infobae home page every day that is rooted in solutions journalism. The objective of the initiative is to expand the scope of this journalistic approach to the rest of Latin America.
"We think of Infobae because it is the most widely read Spanish-speaking media outlet and one of the few in Argentina that has a regional perspective," Guyot said. "We are very happy with the result. Despite being long articles, the readers are there."
In turn, a few months ago, the Red de Periodismo Humano (Human Journalism Network) was launched. It's an alliance of media that share a series of values around social journalism. So far, the network is made up of Red/Acción and seven other Latin American media: GK (Ecuador), Cerosetenta (Colombia), Mi Voz (Chile), La vida de nos (Venezuela), Lado B(Mexico), Salud con Lupa (Peru) and El Toque (Cuba).
Business model: How to finance journalism with impact?
An inescapable topic when discussing new media formats is the business model. In this sense, within solutions journalism, there is no unified criterion on which way to go. Regarding the two media outlets discussed, although they both agree on the diversification of their income, the strategies to achieve economic subsistence are different.
Noticias Positivas has a system of sponsors: companies that decide to support the project and with which it establishes agreements that go beyond advertising banners on the website. It is a personalized model: the advertising guidelines are agreed upon in a particular way with each sponsor. Thus, the contract often includes the generation of content for the company, or the organization and/or moderation of internal events. Méndez Brandam affirms that until now, the site has never resorted to the subscriber model: largely, because it never had the structure of a newsroom.
Red/Acción, on the contrary, is strongly committed to the subscriber model, offering memberships with exclusive benefits. It has the support of brands, but –like Noticias Positivas– it avoids traditional advertising. Instead, it usually offers companies, for example, to be "sponsors" of certain newsletters, in addition to other joint projects.
Pandemic: an opportunity for solutions journalism?
Another relevant issue has to do with the COVID-19 pandemic and its impact on the way of doing journalism. In this regard, those interviewed agreed that the current health crisis represents an opportunity for solutions journalism.
For Méndez Brandam, the pandemic represented a context of absolute change, in which they began to desperately need to see "little lights that would illuminate the way." However, the journalist laments the irresponsibility of many of the big media not to take care of giving news about the existing solutions to the problems, or even misinforming the audience.
Guyot, like Méndez Brandam, believes that the pandemic brought a new opportunity for solutions journalism.
"At a time of so much bad news, a journalism that seeks to build from positive and valuable experiences finds its place," the Red/Acción director said. And he clarified that "it is not just about 'giving good news'."
"Our journalism does not ignore problems, but looks at them with 'X-rays': it explains their complexity and mentions those who are doing something to change the situation," he explained.
Diverse views on a journalistic approach still under construction
Positive and/or solutions journalism are not without criticism. Already at the end of the last century, from the testimonies collected by Susan Benesch –an American lawyer and journalist who published an article in 1998 about the increased publication of solution-focused stories in various local media in the United States–, it was possible to observe the suspicion of some journalists regarding this way of doing journalism. For example, a senior editor viewed it as nothing more than "boosterism" – mere enthusiastic promotion of certain causes, projects, or people– and "cheerleading."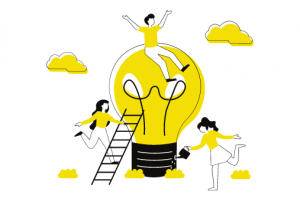 More recently, "solutions journalism" is often considered by its critics simply as "good news journalism" that, far from generating an impact or social change, only improves the sales of those newspapers and magazines that promote it.
In this sense, in an article published a few years ago, Lene Bech Sillesen highlighted how the dissemination of good news favored the business of those media that had a supplement or section dedicated to this type of content.
Seán Wood, CEO of Positive News, assures that positive stories sell and that, in fact, sales increase when media include supplements with good news. However, he emphasizes the difference between nice news, which only seeks to generate clicks –for example, videos or curiosities about pets, what Méndez Brandam calls "kitten content" –and news based on quality journalism, that inform about real problems, highlighting, at the same time, the positive actions or the possible solutions around them.
Despite having a decades-long tradition, constructive or solutions journalism is still a relatively recent phenomenon. And as it continues to expand, there will inevitably be outlets that will see positive news communication as a profitable business that they will try to maximize, even at the risk of spreading content that does not comply with the principles of solutions journalism.
On the other hand, as the semantic distinction between "positive journalism", "solutions" or "good news" is not clear, these concepts are still being used interchangeably. Possibly, it will be a matter of time until authentic journalism of social impact is purified of that which simply seeks mere recreation, entertainment or relaxation of the reader.
Despite all of the above, none of the interviewees believe that solutions journalism –or whatever name may adopt this approach in the future– is going to become the new norm for journalism.
Rather, according to Guyot, "it is about finding a balance between a traditional approach –more of a denunciation– and this approach that, in addition to denunciation, looks at the proposals."
"We do not seek to make solutions journalism the dominant paradigm, but rather one of the paradigms that guide the work of information professionals," Gross concluded.
LJR Note: The Gabo Foundation published a longer version of this same article.