This course is full and we are no longer accepting new students.
The internet is a treasure trove of information for the subjects of journalistic investigations, but only if you know where to look.
The latest Big Online Course (BOC) from the Knight Center for Journalism in the Americas will show you how to dig through key digital assets to gain a clearer picture of the people you're researching.
"Investigative reporting in platforms: How to dig into social accounts, images, ads, and messaging apps" runs from Sept. 6 to Oct. 10, 2021. Craig Silverman and Jane Lytvynenko, two leading experts on online disinformation, fake news, and digital investigations, will teach the five-week course, which also focuses on workflows and organization for the information you'll gather.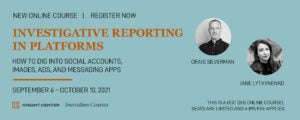 Click here for more information and instructions on how to register, including how to pay online a nominal fee of U.S. $95 for this BOC, which has a limited number of spots. Unlike the Knight Center's MOOCs, which are open courses that normally attract a few thousand people and focus on more generic and/or introductory topics, BOCs are limited to a few hundred students and focus on more specific and advanced topics. Because of the smaller course size, there is more room for interaction between students and the instructor.
"It's essential for journalists, researchers, and others to be equipped to dig into digital platforms. This course provides fundamental skills and techniques for investigating platforms and digital content, and will hopefully spark new ideas for stories, projects, and research approaches," Silverman said. "We're excited to help our students find new ways to investigate the digital domain, and to expand their knowledge of investigative techniques."
Each week of the course is focused on a particular module and topic:
Fundamental approaches for investigating people using social media and public information
Investigating digital ads to follow money trails
Verification and analysis of images and videos, including using geolocation
Monitoring messaging apps, including ethical and security best practices
Creation of workflows and organization of digital investigations
Silverman and Lytvynenko will teach the course using video classes, interviews with guest speakers, presentations, readings, discussion forums and quizzes. They will also hold weekly office hours for any students who are interested in taking part.
"We're excited to be offering this course, which will provide innovative insights and practical tips for journalists who want to take their investigative reporting to the next level," said Mallary Tenore, associate director of the Knight Center. "Students will have a unique opportunity to learn from Jane and Craig, who have assembled an incredible array of learning materials and resources."
Silverman is a ProPublica reporter who investigates voting, platforms, disinformation and online manipulation. He is editor of the European Journalism Centre's Verification Handbook series and a winner of the George Polk Award and of the Carey McWilliams Award. He previously worked as media editor of BuzzFeed News, pioneering coverage of digital disinformation and media manipulation.
Lytvynenko is a senior research fellow at the Technology and Social Change Project at the Shorenstein Center at Harvard University. There, she is developing training on investigating disinformation and researching it for the Media Manipulation Handbook. She was previously a senior reporter at BuzzFeed News. Her method of bringing swift and accessible debunks to mass audiences during breaking news situations has been replicated all over the world.
Silverman and Lytvynenko previously were instructors for the Knight Center Massive Open Online Course (MOOC) "Digital investigations for journalists: How to follow the digital trail of people and entities," which attracted more than 6,100 students. That material is now available as a self-directed course.
This new course, which is a more advanced version of the MOOC, is open to anyone wanting to improve their digital investigative skills. Students will need a computer with access to an Internet connection, the Chrome web browser and their own Facebook and Twitter accounts.
The course is asynchronous, meaning you can complete the activities on the days and during the times that best suit your schedule. However, there are recommended deadlines so you don't fall behind.
So, put on your investigating cap and take advantage of this exciting opportunity for advanced-level training. Sign up to become a skilled digital investigator today!