How does a start-up receive directly, and without too much financial paperwork involved, contributions or monetary donations from its readers? This was one of the questions people always ask Chilean investigative and data journalist Miguel Paz.
With that in mind, the Chilean journalist proposed his recurring online payment platform project, Reveniu, to the GNI Innovation Challenge Latin America of Google News Initiative.
This was one of five innovative projects that were successfully launched in the region and that were presented virtually at the 14th Ibero-American Colloquium on Digital Journalism organized by the Knight Center for Journalism in the Americas of the University of Texas at Austin on May 1, 2021.
"What we did from the beginning with Reveniu was we approached independent, small, hyperlocal media and also journalists to present this [payment platform] with them," Paz said. One of the main challenges for a media outlet to implement this system is media culture and imposter syndrome, he added.
Paz commented that proposing this system to traditional media was complicated due to the culture that exists in media, such as large companies, who think of their journalistic products with the same logic as their investigations or articles.
"Generally, media that make the decision to go ahead say 'ok, let's do a project,' 'okay, let's form a committee,' 'ok, we have to prepare a launch,' and they spend between six months and a year in putting together a system of memberships, donations or recurring subscriptions,' Paz explained. "And when it happens, in the first week it goes more or less okay, not all the goals they had expected from subscribers are met and they are already exhausted from the whole process they went through."
Making media is not the same as making journalism, although journalism is at the heart of all this, Paz said. "Making media involves: business, technology, product."
By solving these issues with the resources that technology facilitates, media have more space to think about their links with the audience and to be able to measure and iterate, investing in their work with the community, Paz said. "Yes, it can be done, building virtuous alliances, especially in spaces such as those provided by ISOJ and others," the journalist concluded.
Sylvio Costa, founder of Brazilian site Congresso em Foco, also participated in the Google initiative with his project Radar do Congresso. Through this project, the media outlet evaluates the political performance of congressmen, making this data freely accessible to the general public. It is information from public officials, with different levels of vigilance, Costa explained.
"This is what we always dreamed of because we saw that good journalism has even more to gain when it uses specialized scientific tools to improve the quality of information," he said.
More than 700,000 people have been able to access this platform on social networks, according to Costa,  who noted that some congressmen improve their work to get a better score on the radar, thus contributing to transparency. The radar, according to Costa, has weight and is cited by other media in the country.
In Brazil, you not only have to do journalism but also defend it, said the founder of Congresso em Foco. Both because of the attacks by the authorities on journalism, the restrictions that the government imposes on the profession and due to the crisis of the pandemic that has claimed the lives of 400,000 Brazilians, he added.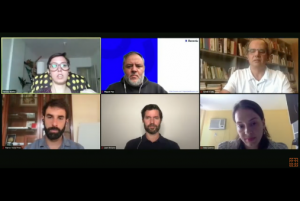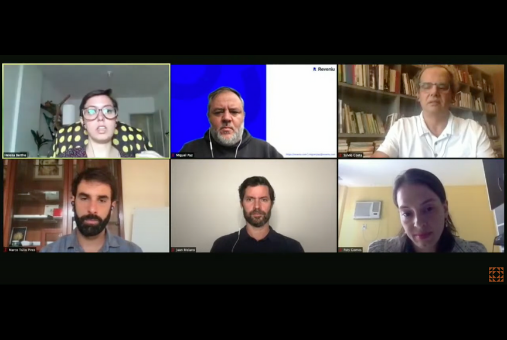 The Brazilian magazine Az Mina created something similar, but with another approach. The magazine, created to combat violence against women, created the product Elas no Congresso (Women in Congress), to monitor women's rights in the legislature. It is a ranking in which the advantages and disadvantages of political projects in favor of women's rights are categorized. Each congressman is assigned a grade and therefore a position in the ranking.
"Everything is open source, it is available on our site for those who are interested. Then the ranking is established in relation to gender and all this has generated a lot of data that has become reports, videos, content, clarifying both proposals and the actions of popular representatives and how their representation of women works in Brazilian politics," said Helena Bertho, editor-in-chief of the magazine.
With this approach, Bertho said, they send out a weekly newsletter with a summary and analysis of parliamentary activities, which already has 10,000 subscribers.
"Everything is very beautiful, the technology and others, but if you don't reach the audience, that is, if you don't touch the audience, it is useless," Bertho emphasized. So, they always had to think about how to make this topic something appealing, "always thinking about video, image, how to adapt all this, how to make something that isn't attractive, attractive, but which is essential in order for the population and women to be able to monitor their own rights."
Elas no Congresso has been considered innovative as a data project, Bertho explained, in addition to having an evaluation with impact, both among audience and legislative representatives.
In Argentina, the organization Croma created an open source Artificial Intelligence software for media with the support of Google.
Juan Melano, CEO of Croma, explained in the panel how this free and open use software works.
"Adds to a database all the historical content of the media outlet so that the machine or the algorithm can learn from what has been published in the past and can relate all the news that has been generated, to add context, relevance, navigability with respect to audience recirculation through content. In addition to adding reasons and tools for new subscribers or to retain the current subscriber, giving added value, entering in depth in all the articles where a person was related to a topic or an issue."
The advantage of these tools, Melano said, is that they help media to think of themselves more as technology products. "It is forcing media in Latin America to think about products and forcing us to add a more inclusive mentality to all the experience that we are offering to readers, subscribers and members of the media outlet, journalists, technicians, to content producers, the managers, those in the commercial area, etc."
The sustainability of the media outlet depends on this integrative thinking, Melano explained.
The presentation by Patrícia Gomes, product director of Jota, from Brazil, closed the panel. Jota was born in 2014 as a site that mainly covers legal news. 
Through Google's initiative, Jota managed to create a platform with a database that contains information on tax lawsuits of the Brazilian Court of Tax Appeals (CAF, for its acronym in Portuguese) that are available to the public, but are not being monitored or reported on by journalistic organizations.
In its project, Jota combines journalism with data science to analyze CAF cases and make the tax system more predictable for readers, since in Brazil, access to public information is difficult and its interfaces are not friendly at all.
The algorithm of its platform can project the probability of defeat or victory of current and future cases in the area of tax lawsuits resolved by the CAF.
"Beyond being simply a tool for consultation and information gathering, we also want to be part of our users' lives as a work tool. It is no longer a curious tool that can be had and used, but something that can be fundamental for a person's work," Gomes said.
Latin America is revealing a generation of journalists that use data science to create new products and to confront the political control of the authorities, said Marco Túlio Pires, of Google News Lab Brazil and moderator of the panel. In the region, there is "a very vibrant environment for greater challenges that the adoption of new technologies can make our work more agile, faster, with journalism with much more impact ".