There's still time to register for the Knight Center's introductory course on data journalism and catch up with video lessons and course material.
Almost 4,000 students from 52 countries have registered so far for "Introduction to data journalism: How to find and process large volumes of information," offered thanks to support from Microsoft. The country with the highest level of participation is Mexico, followed by Brazil, Argentina, Peru and Colombia.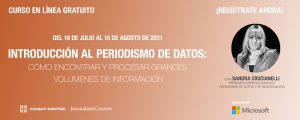 This massive open online course (MOOC) in Spanish will show how to analyze data and create simple interactive visualizations.
It is taught by expert data journalist and popular Knight Center instructor Sandra Crucianelli, using video lessons, readings, exercises, quizzes and discussion forums.
"There is a lot of participation in discussion forums and that is a sign of the growing interest that data journalism has been attracting among professionals in the field of communications," the journalist said.
"It is very gratifying to observe how the participants solve different challenges or discover new tools, such as databases that are commonly used in this discipline, but are unknown to many journalists," she continued. "These information repositories are very useful because they generally contain information about different countries that is not regularly published on local platforms."
Crucianelli will also be joined by guest speakers, including Itxaro Arteta Monteagudo, journalist for Animal Político and winner of the data journalism competition from Microsoft and the Knight Center; David Monroe, Excel Senior Product Manager for Microsoft; and Miguel Martinez, PowerBI Project Manager for Microsoft.
So, join this fascinating international community of journalists interested in the fundamentals of data journalism. Click here for more information and instructions on how to register!