Rescue data from the deep web, extract information from closed formats, explore international databases.
These are a few of the skills you will learn in the new Massive Open Online Course (MOOC), "Introduction to data journalism: How to find and process large volumes of information," offered in Spanish by the Knight Center thanks to support from Microsoft. Click here for registration instructions and more information.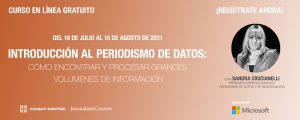 The free online course runs from July 19 to August 15, 2021, and is taught by expert data journalist Sandra Crucianelli, a veteran Knight Center instructor who has already trained thousands of reporters and editors from all over Latin America.
This is a course for beginners, but also very useful for reporters who have already started in data journalism and need a refresher and to learn new tricks.
"You will learn to tell newsworthy stories starting from analysis of the data and obtaining simple interactive visualizations that allow a better understanding of the story that is told to the audience," Crucianelli said.
This MOOC is organized into four weekly modules:
What is data journalism? You'll also learn the necessary conditions to carry it out and the difference between closed and open formats
Searching for open data, including use of advanced Google and Microsoft tools, academic repositories and databases
Data extraction and spreadsheets, covering tools for web scraping, optical character recognition, spreadsheets and more
Introduction to data processing, including basic formulas and data visualization
Crucianelli will teach the course using video lessons, readings, exercises, quizzes and discussion forums.
This course will include the participation of special guests, experts who will present data journalism projects and show how to manage a spreadsheet to find news from large volumes of data.
One of the guests will be Itxaro Arteta Monteagudo, journalist from Mexican investigative site Animal Político and winner of the data journalism contest from Microsoft and the Knight Center. She will share her project investigating thousands of cases of missing women in Mexico. There will also be two experts from Microsoft: David Monroe, Excel senior product manager, and Miguel Martínez, PowerBI project manager. Martínez will give an introduction to Power BI, the powerful data visualization tool that has been used by many data journalists around the world.
"We absolutely honored to work with Knight Center to help journalists to attain the skills they need to tell complex stories in ways that audiences can understand and trust," said Vera Chan, Microsoft News senior manager, worldwide journalist relations. "At Microsoft News, we're in the unique position of connecting our publishing partners to a half billion users, and working with the industry to customize our tools to help creators like Ixtaro Monteagudo scale."
Instructor Sandra Crucianelli is a data and investigative journalist currently coordinating the data intelligence unit at Argentine news site Infobae. As a member of the International Consortium of Investigative Journalists (ICIJ), she worked on the Panama Papers, Paradise Papers, Implant Files and FinCEN Files investigations. Crucianelli has collaborated with Knight Center's distance learning program since 2004, when she taught "Mathematics for Journalists," which became one of the most popular courses. This will be her sixth MOOC for the Knight Center, since the first massive course on data journalism she taught in 2013.
"Sandra Crucianelli is popular among journalists all over Latin America. In the last 25 years, she has been conducting in-person and online training programs in many countries. We are proud to have her back at the Knight Center and grateful to Microsoft for sponsoring this new course," said professor Rosental Alves, Knight Center's founder and director. "Sandra's most recent MOOC for the Knight Center was 'Artificial Intelligence: How to cover AI and understand its impact on journalism,' in 2018, also sponsored by Microsoft. It reached almost 3,000 people."
This MOOC is open to anyone interested in data journalism, but is designed for journalists, editors, developers, systems analysts and even those with no prior experience in the field.
"The emphasis will not be placed from the technical point of view, (although we will learn specific techniques each week), but content will be considered from the journalistic viewpoint," Crucianelli said.
Like all Knight Center MOOCs, the course is asynchronous, meaning participants can take it during the days and times that best suit them. However, there are recommended weekly deadlines to complete activities so as not to fall behind.
Students who successfully complete course requirements have the option of paying an administrative fee of U.S. $30 to receive a certificate of completion in PDF format. The Knight Center will evaluate the cases of students who need a waiver of that fee. No formal college credit is associated with the certificate.
So, join the data revolution in journalism and register today for this unique and free opportunity.
About Microsoft
Microsoft (Nasdaq "MSFT" @microsoft) enables digital transformation for the era of an intelligent cloud and an intelligent edge. Its mission is to empower every person and every organization on the planet to achieve more.
About the Knight Center
The Knight Center for Journalism in the Americas was created in 2002 by Professor Rosental Alves, Knight Chair of Journalism at the Moody School of Communication at the University of Texas, thanks to the generous donations of the John S. and James L. Knight Foundation. The Knight Center's distance learning program began in 2003 and is funded in part by the Knight Foundation. Over the past six years, Knight Center MOOCs have reached more than 250,00 students in 200 countries and territories.