"Disinformation and fact-checking in times of COVID-19 in Latin America and the Caribbean," a Massive Open Online Course (MOOC) from the Knight Center, is now available as a self-directed course.
The instructor-led version of this course ran from Feb. 15 to March 14, 2021, and was taught by fact-checking expert Cristina Tardáguila. It was available in Guaraní, Portuguese and Spanish, and attracted 3,235 students from 52 countries. This was the first time the Knight Center offered a course in an Indigenous language of a Latin American country.
"2020 was surely the most important year for the fact-checking community," Tardáguila said at the start of the MOOC.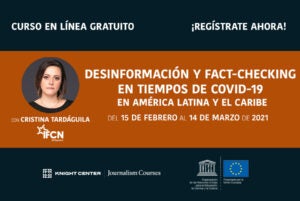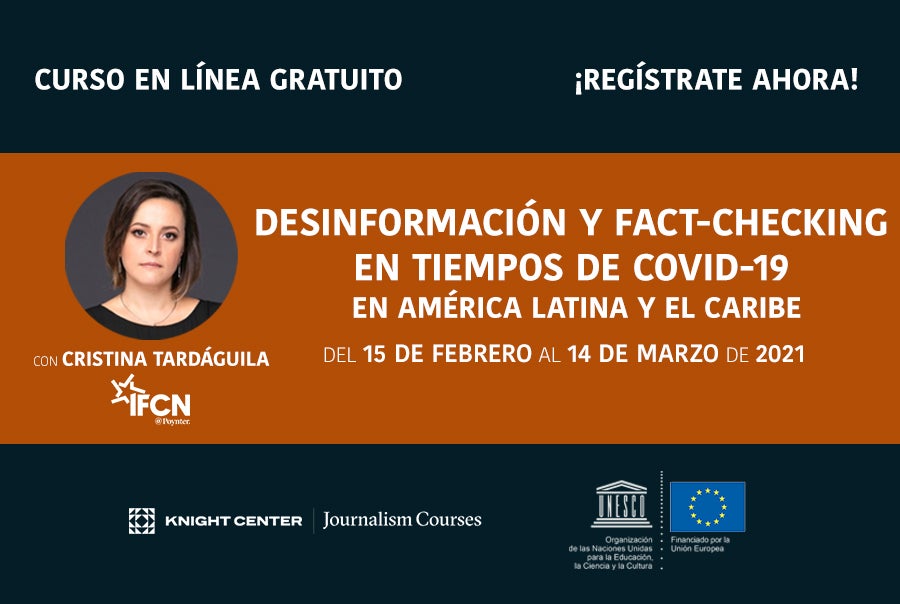 The multilingual MOOC project was  made possible thanks to the support of UNESCO through its #CoronavirusFacts project, financed by the European Union.
The self-directed version, also available in Guaraní, Portuguese and Spanish, features a course syllabus, readings, video classes and transcripts.
Students will look at the history of fact-checking, be introduced to fact-checking organizations in Latin America and the Caribbean, learn how to start a fact-checking unit, be exposed to basic fact-checking tools and receive an overview of regulation around the world used to stop or reduce the spread of mis/disinformation. They will also get a specific look at fact-checking in relation to the pandemic and elections.
"I would like to comment that as a journalism student, my experience with my first Knight Center online course was enriching, and helped me with clarifying ideas and personal projects I'm working on," one student remarked in the final course evaluation. "In addition, the tools mentioned in the course are very useful for my research project. … Without exaggeration, I can say that my way of doing journalism and who I am has changed after this course."
"With the content acquired from this course, I was able to lecture high school students about 'fake news' and media education," another student said. "As a journalist, I believe I have the duty of clarifying, mainly to the new generations, how to behave on social networks. This is the only way we will be able to improve journalism and increase credibility in our work."
Join the community of fact-checkers working to fight mis- and disinformation during the global COVID-19 pandemic and take the self-directed course today in Portuguese, Spanish, or Guaraní.