A data journalism project investigating thousands of cases of women missing in Mexico won $10,000 in financing and hands-on data visualization training, in a very competitive contest organized in a partnership between Microsoft and the Knight Center for Journalism in the Americas at the University of Texas at Austin.
Journalist Itxaro Arteta from news site Animal Político will spearhead the project in a country where official counts say 19,450 girls, adolescents and women are reported missing. Half are between the ages of 10 and 24.
"This funding and training initiative is a reflection of Microsoft's and the Knight Center's shared commitment to delivering free training to help newsrooms achieve more and better serve their audiences. It's also a reflection of the need for journalists to develop data journalism skills," said Mallary Tenore, Knight Center's associate director. "We are happy to be teaming up with Microsoft to support Itxaro Arteta and Animal Político at a time when the need for data journalism training in Latin America has never been greater."
Arteta has spent a year dedicating herself to investigating cases of domestic violence, sexual violence and femicide in Mexico, while also reporting on the disappeared. She began thinking about the idea for this report in January 2019, when outgoing National Search Commissioner Roberto Cabrera Alfaro announced the creation of a database with genetic information from more than 50,000 profiles of relatives of the disappeared, as Animal Político reported at the time. It was also the first time a federal government institution recognized that there were 40,180 missing people in the country, the news outlet added.
The database included sex, age, the state where the people disappeared, where they came from and physical data, Arteta explained.
Now that a new administration has taken over, Arteta said the database is not available in full. She is currently appealing to the transparency mechanism for more data.
In the meantime, she has noticed some interesting trends. For example, there is a correlation between high levels of femicide and high levels of domestic violence in some states, she said. Additionally, the majority of women reported missing are under the age of 18, the journalist added.
The problem of the disappeared has typically been associated with organized crime and drug trafficking, but Arteta said the pattern is different with women.
"It tells us that maybe it has to do with violence against women," Arteta said. "And that is an issue that has been paid a lot of attention in the last year, and there is still a lot of resistance in Mexico."
In addition to the $10,000 in funding, Animal Político will receive hands-on data visualization training from Microsoft, which will begin in January 2021.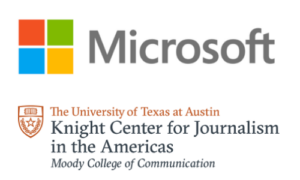 "Last year, Microsoft President Brad Smith listed safeguarding and empowering journalism as one of the top 10 challenges for the next decade, and our partnership with the Knight Center, Animal Politico, and Ms. Arteta is an expression of our commitment to tackling that challenge," said Ben Rudolph, Managing Director of Microsoft News Labs. "By empowering journalists with technology and training, we can augment their creativity and curiosity, enabling them to more effectively tell stories that move the world forward."
Arteta said both the funding and training will be helpful to the small team at the digital media outlet, especially in terms of data analysis and visualization.
"I would love to learn how to do it in a much more professional way, much more effective, for sure," said the journalist, who has taken three online courses from the Knight Center, including one on data analysis and visualization and another on inclusive coverage.
The funding from Microsoft and the Knight Center will also help the team to travel outside of Mexico City, where the newsroom is located, to explore states with high levels of disappearances and to see what policies are in place.
Microsoft partners with publishers through its Microsoft News ecosystem, which reaches more than 500 million people in 180 countries every month through personalized feeds on MSN, Bing, and Microsoft Edge, as well as global syndication partners. Through its News Labs initiatives, Microsoft is working to advance the art, science, and business of journalism through technical innovations that speed and scale reporting, modernize newsroom operations, and drive audience connections.
The Knight Center for Journalism in the Americas was created in 2002 by Professor Rosental Alves, Knight Chair of Journalism at the Moody College of Communication at the University of Texas, thanks to the generous donations of the John S. and James L. Knight Foundation. The original goal of the Knight Center was to help journalists in Latin American and the Caribbean with professional training and capacity building. The Knight Center continues to have a strong presence in Latin America but in recent years has grown into global operation thanks to its massive online courses that have reached more than 250,000 students in 200 countries and territories since 2012.
Animal Político is a digital native media outlet that puts citizens at the center, engaging in dialogue with them and covering issues that affect them, such as corruption, insecurity, inequality in the country, gender violence and discrimination. It is dedicated to investigative journalism and multimedia projects covering news across Mexico.