Corruption, organized crime, mining and soccer. A majority of the Latin American articles produced by 72 journalists from 13 countries in the region revolve around these topics as part of the global journalistic investigation known as FinCEN Files, which was coordinated by the International Consortium of Investigative Journalists (ICIJ) along with BuzzFeed News.
The investigation, which the journalists started publishing on Sept. 20, "reveals how banks continue to move dirty money for drug cartels, corrupt regimes, arms traffickers and other international criminals — and how a broken U.S.-led enforcement system perpetuates business as usual," according to the ICIJ website.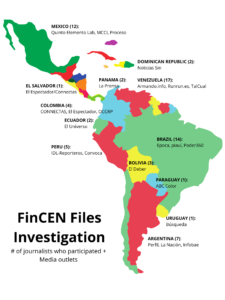 Over 16 months, more than 400 journalists from 88 countries worked to analyze 2,600 documents obtained by BuzzFeed News, 2,100 of which were suspicious activity reports (or SARs) sent by banks and other financial entities to the Financial Crimes Enforcement Network (known as FinCEN) of the U.S. Treasury Department. Although it is U.S.-based banks that are required to submit these reports, the investigation went global because many transactions require correspondent banks that are usually based in that country. Thus it was possible to find records of transactions that left, for example, from Venezuela bound for a tax haven.
While it is true on this occasion the team was working with thousands of documents – and not millions of records like those of other investigations such as the Panama Papers – they were very complex documents that showed transactions for more than U.S. $2 trillion, as explained by Emilia Díaz-Struck, ICIJ research editor and Latin America coordinator, to LatAm Journalism Review (LJR).
"That is where the investigative capacity is central," said Díaz-Struck, who explained that 17,600 documents obtained through reporting, requests for access to information, search of public information and other sources, including those who were specialists on the topic, were added to documents they already had.
The complexity of presenting the information led the Consortium to organize what they called a Data Extraction Party. "More than 85 journalists from 30 countries participated in the project to extract data and structure it so that we could understand the transactions and how the money from those transactions that the banks sent flowed to signal that there was a suspicion about the transaction."
It took them almost a year to extract the data from more than 200,000 transactions and then seven months to verify it. Díaz-Struck explained that three rounds of verification were carried out with a tool created by the Consortium team.
"You see very interesting stories and it shows a bit what are the possible flaws in the money laundering monitoring system, how banks work, when they report, how they report […] One of the things we analyzed and saw is that in half of the reports the banks did not have information on at least one client from whom they facilitated the transaction. That is, they did not know who the beneficiary was or who was actually sending the money. There is a very high use of shell companies, for example, in all these transactions. And the transactions happened, and then after they happen, the banks report them," she added.
The flight of Venezuela's public treasury
When the Consortium first received the documents, they went through the process that they do with all investigations: they wondered if it is a global issue, if it is in the public interest and if people could be affected. Indeed, in the case of the FinCEN Files, they found in some countries the movement of money was related to public money.
This was the case of Venezuela, the Latin American country that appeared most in the investigation. According to the documents obtained, there were US $4.8 billion in suspicious transactions involving Venezuela from 2009 to 2017. Of these, at least 70 percent were linked to public funds and had a government entity such as the Ministry of Finance as one of the parties to the transaction, Díaz-Struck explained.
For this reason, one of the media outlets called to be part of the team was Armando.info, an ICIJ partner that has been part of other investigations.
"In a first exploration, we identified 30 stories," Patricia Marcano, a journalist for Armando.info and one of the coordinators of the FinCEN Files investigation for Venezuela, told LJR. Marcano said that together with Ewald Scharfenberg, director of the media outlet, they knew that they should invite more colleagues because the team of nine journalists from Armando.info was not enough to cover the stories.
In addition to Florantonia Singer, who is the other coordinator of the investigation in Venezuela, they invited Lisseth Boon, Lorena Meléndez and Víctor Amaya – journalists from media such as Runrun.es and TalCual, as well as other freelance journalists. They finally built a team of 16 journalists with whom they have already published 10 stories, and there are still many to come. "We plan to continue publishing information from the FinCEN Files until at least December," Marcano said.
In the case of Venezuela, the pattern was clear: State entities gave contracts to individuals who, after benefiting from them, took the money out of the country. "Much of the money involved that the FinCEN documents show us was destined for housing projects or social works and ended up going somewhere else," Marcano said.
The flight of the Venezuelan public treasury "seems infinite" as one of the Armando.info readers told the media outlet. That is why one of the global stories published by the Consortium is related to the so-called "Boligarchs" – an expression that emerged to define the wealthy social class that grew during the Bolivarian government of Hugo Chávez and that continues with Nicolás Maduro. Within this line is the case of Alejandro Ceballos Jiménez, a construction entrepreneur who "secretly routed at least $116 million from public housing contracts to recipients including offshore companies and bank accounts belonging to family members," according to the investigation.
But Ceballos is just one of at least seven Venezuelan magnates whose contracts with the Chávez and Maduro administrations appear in FinCEN documents. For Marcano, this story reflects that "part of that looting that has occurred in recent decades and that we now resent very much for this acute crisis that we have so much hyperinflation and the humanitarian emergency, and all the bad things that we are going through" .
The cases of Venezuela have seen more repercussions internationally than within the country.
Due to the fact that independent digital media – which unlike traditional media have managed to survive in the country – are blocked, the reach inside Venezuela is limited. However, the media outlet works around it with other methods, especially through social networks: Facebook is not yet blocked in the country so they publish the information there, or make small carousels on Instagram.
"Perhaps our impact is not comparable with other countries where there are immediate changes. But okay, it is part of the restrictions of this authoritarianism and of the regime in which we live," Marcano said.
The authorities for their part did not want to respond to any of the interview requests from the media, and have chosen to continue with their strategy of ignoring all complaints in an attempt to hide them, Marcano said.
"It's incredible. And it has happened to us with other investigations that we have published on Armando.info, that they do not even say that it is a lie," Marcano said with some humor. "They don't even say that we are causing unease, it's like they don't mention it, as if we don't exist."
Football, gold and art
At first, when talking about possible money laundering or drug trafficking transactions, it was believed that Colombia would have a large presence in the documents, according to what Carlos Eduardo Huertas, director of Connectas, told LJR. Although this was not the case, the team that investigated the case for Colombia – made up of Connectas and the newspaper El Espectador – determined three lines of investigation that revolved around the gold trade, soccer and art.
Perhaps one of the cases with the greatest international impact was the latter, when the name of Fernando Botero, the most famous and recognized painter in the country, appeared in the documents. According to these, Botero received a money order from an account and bank used by engineering and contracting company Odebrecht to pay bribes, explained María Camila Hernández, from the Connectas team, to LJR.
"This was an interesting case because although we did not manage to get to the point where it is established who bought the work or if it was actually to [pay] a bribe, it does show a bit the functioning of that art market that due to its characteristics, due to not being regulated, it is often used for laundering operations, which was what happened on many occasions in Brazil," Hernández added.
Just as the cases of Odebrecht and Operation Car Wash reappeared in some transactions of this investigation, the well-known Fifagate also made an appearance. The Colombian investigative team together with the newspaper ABC Color of Paraguay followed up on María Clemencia Pérez, widow of the former president of the South American Football Confederation (Conmebol) Nicolás Leoz, who had gone unnoticed when the FIFA scandal broke out. However, "reports of suspicious activity within FinCEN files show a series of twists that may indicate payment patterns or money laundering," Hernández explained.
Operations linked to Argentina, Mexico and Peru also appeared in the FinCEN Files, some also related to the gold trade, soccer and even organized crime. For example, one of the stories in Mexico shows how Los Zetas cartel was able to move at least U.S. $5 million without the U.S. or Mexican banks seeing it.
Connectas has been making a compilation of the stories published by the Latin American media and has built a kind of repository for them. It's important to analyze how all the stories are linked.
"At the Latin American level, the different stories that have been produced and investigated show that transnational nature of the [money] laundering business and it seems to me that the media have known how to expose it quite well," Hernández said. "The businessman from Argentina who comes to Venezuela and uses a Swiss bank to launder money is just one of several cases. The subject of gold that covers many countries in the region and banks around the world, as well. To me, that seems to be something very important that this investigation shows."
For Huertas, one of the most relevant aspects of this investigation are the three variables that ICIJ has promoted in its global investigations: a reliable network of journalists, the management and processing of large volumes of information, and of course, safety.
"They are variables that from a journalistic point of view make these jobs possible," he said.
Below is a list of the media outlets and journalists from Latin America who participated in the FinCEN files investigation according to the ICIJ site:
ARGENTINA
Media: Perfil, La Nación, Infobae
Journalists (7): Emilia Delfino, Hugo Alconada, Iván Ruiz, Maia Jastreblansky, Mariel Fitz Patrick, Ricardo Brom, Sandra Crucianelli
BOLIVIA
Media: El Deber
Journalists (3): Gustavo Jiménez, Lizeth Vargas y Nelfi Fernández.
BRAZIL
Media: Epoca, Revista piauí, Poder 360
Journalists (14): Aguirre Talento, Allan de Abreu, Fernanda da Escóssia, Fernando Rodrigues, Guilherme Amado, José Roberto de Toledo, Luigi Mazza, Marcella Ramos, Mario Cesar Carvalho, Mauricio Ferro, Thais Bilenky, Thiago Herdy, Tiago Mali.
COLOMBIA
Media: Connectas, El Espectador, OCCRP
Journalists (4): Carlos Eduardo Huertas, Daniela Castro, María Camila Hernández and Pilar Cuartas Rodríguez.
DOMINICAN REPUBLIC
Media: Noticias Sin
Journalists (2): Alicia Ortega Hasbun and Julia Ramírez
ECUADOR
Media: El Universo
Journalists (2): Mónica Almeida and Paul Mena Mena
EL SALVADOR
Media: El Espectador/Connectas
Journalist: Suchit Chávez
MEXICO
Media: Quinto Elemento Lab, Mexicanos contra la Corrupción y la Impunidad, Proceso
Journalists (12): Alejandra Xanic von Bertrab, Andrea Cárdenas, Armando Talamantes, Daniel Lizárraga, Jorge Carrasco, Laura Ley, Mathieu Tourliere, Miriam Castillo, Raúl Olmos, Salvador Camarena, Valeria Durán and Verónica García de León.
PANAMA
Media: La Prensa
Journalists (2): Mary Triny Zea and Rolando Rodríguez.
PARAGUAY
Media: ABC Color
Journalist: Mabel Rehnfeldt
PERU
Media: IDL – Reporteros, Convoca
Journalists (5): Gustavo Gorriti, Miguel Gutiérrez, Milagros Salazar, Romina Mella and Shirley Cayetano.
URUGUAY
Media: Búsqueda
Journalist: Guillermo Draper
VENEZUELA
Media: Armando.info, Runrun.es, TalCual, periodistas freelance
Journalists (17): Andreina Itriago, Ewald Scharfenberg, Florantonia Singer, Hugo Prieto, Isabel Guerrero, Isayen Herrera, Joseph Poliszuk, Lisseth Boon, Lorena Meléndez, Marcos Valverde, María Antonieta Segovia, Marianela Palacios, Patricia Marcano, Roberto Deniz, Ronna Rísquez, Valentina Lares, Víctor Amaya.