Science is present in every corner of our lives — something made ever more apparent today with crises like the pandemic and climate change. Journalists, in turn, cannot afford to ignore the basics and more nuanced aspects of science coverage.
That's why the Knight Center and the Brazilian Serrapilheira Institute are teaming up to offer a free online course in Portuguese, "Science Journalism: From pandemic to climate crisis, how to improve science coverage." 
Registration is open for the massive open online course (MOOC), which runs from Oct. 11 to Nov. 7, 2021. During the four-week course, the instructor, Brazilian science journalist Thiago Medaglia, will cover the environment, health and other science-related topics, teaching fundamental skills that will help reporters and editors improve their work when dealing with scientific issues. The course is open to journalists, journalism professors and students, or anyone interested in the intersection of media and science.
Click here for more information about the course and instructions on how to register!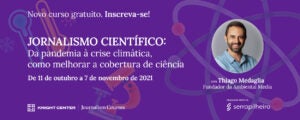 "If one thing, the pandemic made it very clear that science is present in our everyday lives, and deepening your knowledge and understanding of science will be an essential step to any journalist in the next decades," Medaglia said.
"A very clear argument to sustain that claim is the climate emergency, which moved from a niche topic to a broad urgent issue present in all beats, from politics to economy, from urban topics to environmental coverage on remote locations. Having an introductory knowledge of science, which is what this course provides, will allow journalists to avoid basic mistakes and also malicious traps, improving the quality of your work," Medaglia said.
The course will be divided into four weekly modules:
An introduction to science journalism, including basic terminology, fundamental concepts, good practices and reading a scientific paper
Trust in science, including looking at how it works, the identification of sources and experts, and recognizing scientific denial
Environmental and climate crisis coverage, including a special focus on the Amazon rainforest, COVID-19 and climate change
Intersection of data journalism and science journalism, including simplification of complex subjects and making scientific content accessible and attractive
"The course is introductory and offers tools and knowledge that will directly impact the work of journalists covering diverse topics," Medaglia said. Professionals covering all beats are welcome to register!
Medaglia will teach the course using video instruction, readings, exercises, quizzes and discussion forums.
There will also be visits from guest speakers. "They are all professionals who share some aspects that I consider key: they are all experienced, restless, up-to-date and open to sharing," Medaglia said.
Like all Knight Center MOOCs, the course is asynchronous, meaning students can complete the course activities on the days and during the times that best suit their schedules. There are recommended deadlines, however, so participants don't fall behind.
Those who successfully complete course requirements will be eligible to receive a certificate of completion upon review by the Knight Center team. For this MOOC, the usual fee of US$30 will be waived. As in the case of the other online courses of the Knight Center, no official academic credit is associated with the certificate.
Medaglia is a Brazilian science journalist, writer and founder of Ambiental Media, a local news initiative transforming science into compelling and accessible journalism. He is a former editor at environmental-news sites Mongabay and InfoAmazonia.org, as well as National Geographic Brasil, where he is still a contributing writer. He is a former fellow for the International Center for Journalists (ICFJ) and the Knight Science Journalism Program at the Massachusetts Institute of Technology (MIT). He is currently pursuing his master's degree at the Department of History of Science at Harvard University.
"We are grateful to the Serrapilheira Institute for its support in making this program possible and to Thiago Medaglia for his dedication to prepare, along with the Knight Center team, a fantastic course," said professor Rosental Calmon Alves, the Knight Center's founder and director. "Science journalism has never been so important. Training journalists to deal with science has never been so necessary."
So, join Medaglia and improve your knowledge of science and science journalism to better cover the world around you and the big stories of our lives! Register today!
The Knight Center for Journalism in the Americas at the University of Texas at Austin provides high-level training, resources, news and information to journalists from around the world. The center was created in 2002 at the Moody College of Communication's School of Journalism and Media by professor Rosental Alves, Knight Chair in Journalism and UNESCO Chair in Communication. It's Journalism Courses program has reached more that 250,000 students since it started its massive online courses program in 2012.
The Serrapilheira Institute is the first private nonprofit institution geared toward fostering science in Brazil. It was founded to place more value on scientific knowledge and to increase science visibility. The idea is to stimulate a culture of science by acting in two areas: science itself and science outreach.