Since 2013, Agência Pública has raised more funds through collective financing on the Catarse platform, the largest in Brazil, than any other journalistic organization. We held three campaigns, one every two years, to finance our Reportagem Pública (Public Report) project. In total, 2,429 readers supported us with R $231,167 (about US $67,000).
Brazilian journalist Felipe Oliveira has been accused of the crime of promoting terrorism after infiltrating a group of sympathizers of the Islamic State (IS) as part of a journalistic investigation conducted in 2016.
On April 4, the Civil Police of the State of Goiás handed the Brazilian justice system the completed investigation of the murder of radio journalist Jefferson Pureza, who was killed in the city of Edealina on January 17 of this year. The police investigation concluded that councillor José Eduardo Alves da Silva, of the Party of the Republic (PR), ordered the crime and should be charged with double-qualified homicide, for trivial motive and for payment, according to G1.
At least 19 journalists and media professionals were attacked in various cities in Brazil between April 5 and 7 while working to cover former President Luiz Inacio Lula da Silva (2003-2011) going to jail, according to records from the Brazilian Association of Investigative Journalism (Abraji). The assaults, which came from supporters of Lula and the Military Police, were repudiated by press organizations in Brazil and Latin America.
Journalists and radio broadcasters at Empresa Brasileira de Comunicação (Brazil Communication Company, or EBC), a federal public agency, protested on March 20 against direction given by company managers to reduce coverage of the murders of Marielle Franco, a city councilor for Rio de Janeiro, and her driver Anderson Gomes, both killed in a March 14 shooting.
Mass communication was one of the areas most affected by the expansion of technology. Technological changes have also put the traditional media business model in check. In this context, technologies such as algorithms, artificial intelligence and Natural Language Generation (NLG) have emerged, which are increasingly dominant in media companies that use them for a variety of applications from news production to content distribution.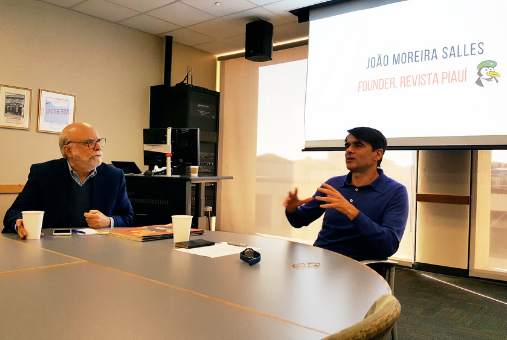 João Moreira Salles spoke about the principle challenges facing the Brazilian press today, chief among them a lack of diversity in terms of race, economics, gender, religion, geography and media ownership.
The Brazilian press needs to do more to create diverse newsrooms.
In a move contrary to global trends in journalism, the traditional newspaper Jornal do Brasil (JB) returned to the newsstands on Feb. 25 after eight years after it closed its print edition and became a purely digital media outlet.
Fifteen journalists who participated in the online course "Introduction to Programming" were at Google offices in São Paulo on Feb. 19 for an exclusive Python workshop. They were able to deepen what they learned in the Knight Center course with instructors Pedro Burgos and Álvaro Justen.