After 100 years of one-way radio broadcast with linear programming, we've entered a new era of digital audio that opens immense possibilities journalists can explore to tell stories and interact with audiences using, for example, podcasts, voice assistants and social audio. It's the new frontier of  audio storytelling!
To help journalists work in this new age, the Knight Center for Journalism in the Americas is offering a new online course on the fundamentals of audio storytelling, from finding a focus, to writing and interviewing, to voice performance.
"Audio storytelling for journalists: How to tell stories on podcasts, voice assistants, social audio, and beyond" is taught by instructor Tamar Charney of NPR, the main public radio news network in the U.S., and runs from Oct. 18 to Nov. 14, 2021. Click here for more information and instructions on how to register!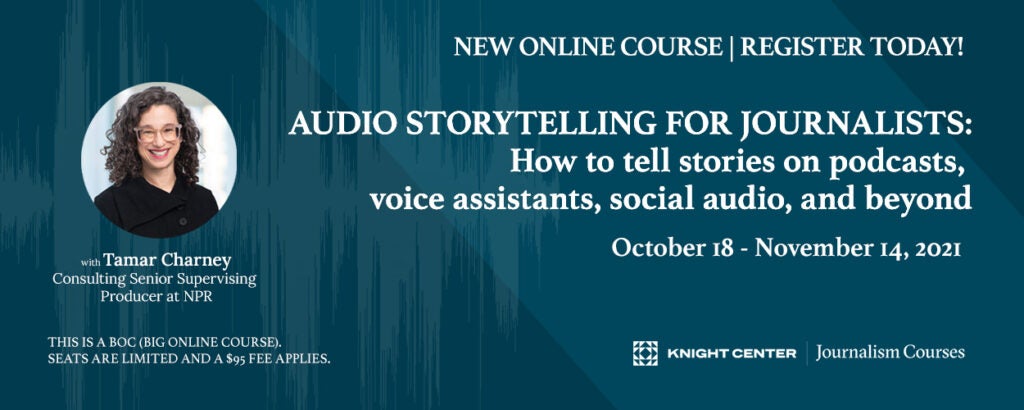 For Charney, audio is a powerful storytelling format for multiple reasons.
"First it engages your imagination because as you listen your mind paints pictures of what you are being told," she said. "Also, there is just something about listening to a human voice that helps you feel emotionally connected to the situation. There's a reason why audio storytelling has persisted all throughout human history – it's just a really efficient and effective way of connecting with another human being."
Charney previously taught a massive open online course (MOOC) on digital audio storytelling for the Knight Center, which attracted nearly 4,000 people. However, this special course, which is a BOC (big online course), will be more advanced and limited to a few hundred students, instead of thousands. Because of the smaller course size, there is more room for interaction between students and the instructor.
"This course dives deeper into how you actually create an audio project and teaches some of the fundamental skills you need to be effective at audio," the instructor said. "We'll cover how to focus a story, how to prepare for an interview, talk about how to sound great behind a mic, and how to get good sound in the field. Throughout the course I'm encouraging students to start mapping out a production plan for an audio project."
The course will be taught in four weekly modules, each focusing on a particular topic.
Week one will focus on getting started with audio, looking at the format's strengths, defining your audience and creating a project plan.
Week two opens your toolkit to look at writing and interviewing and building your story, including writing for the ear and scripting.
Week three considers voice performance, recording sound and making your story come alive.
Week four shows how to make sure your story is heard, including opportunities in audio beyond podcasting and pitching your project.
Charney will teach the course using videos, presentations, readings, discussion forums and weekly quizzes. She'll also be accompanied by guest speakers.
"I was thinking about folks who could pull back the curtain on various components of audio storytelling and folks who are just really amazing at what they do," she explained. "I was also wanting to showcase some of the elements of creating a successful audio project that are crucial, but perhaps not discussed enough."
"That's why I'm delighted N'Jeri Eaton from Netflix is talking with us about what it takes to pitch a project. Alison MacAdam is talking with us about editing. And Niala Boodhoo is talking about the art of interview," she continued. "But, of course, I also wanted to get a voice coach to offer some wisdom about sounding good, which is why I invited Valerie Geller to join us."
Other guest speakers include: Serri Graslie, editorial strategist; Julie Shapiro, executive producer for Radiotopia from PRX; Andrew Sussman, supervising editor at NPR; and Ramtin Arablouei, host, producer and composer for NPR's Throughline.
Course instructor Tamar Charney is Consulting Senior Supervising Producer at NPR and works on editorial strategy for emerging platforms, including apps and smart speakers. She was an executive creator of NPR's "Coronavirus Daily," the fastest growing podcast to date for the network, and acting senior supervising producer for NPR's history podcast "Throughline." Before working at NPR, she was program director at Michigan Radio, meaning on-air, online, news strategy and operations. At Michigan Radio, she's been a newscaster, reporter, editor and producer. She's also worked at other public radio stations like WDET and WEMU and was board chair of the Public Radio Program Directors association from 2014 to 2017. Charney is also a writer, photographer and voiceover artist.
Anyone interested in audio storytelling is encouraged to register for the course. You just need a recording device or smartphone in order to try some of the suggested exercises.
Unlike MOOCs, which are free and attract thousands of people, BOCs cost US $95, including full access to the course and a certificate of completion for those who meet course requirements. There is no formal academic credit associated with the certificate.
The course is asynchronous, meaning you can complete the activities on the days and during the times that best suit your schedule. However, there are recommended deadlines so you don't fall behind.
So, grab your microphone and headphones and sign up for this great course on audio storytelling! Your ears will thank you!