"Introduction to data journalism: How to find and process large volumes of information" is now available to take for free, at any time, as a self-directed course on the JournalismCourses.org online platform.
The course was originally offered as a massive open online course (MOOC) from July 19 to Aug. 15 and attracted more than 4,100 students. 
Taught by data journalism expert Sandra Crucianelli in Spanish, the course was offered  thanks to support from Microsoft.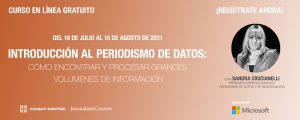 "The course was very successful, not only because more than 4,000 journalists from all over the world signed up, but also because they participated very actively in all forums and the great interest in this discipline was noted," Crucianelli said. "Several of those who took the course have expressed their satisfaction at having new tools that will contribute to improving the quality of their content, and that is always very encouraging."
"With the self-directed course, they will also be able to explore more in each resource, for example international databases where there is often information newsworthy for the vast majority of countries," she added.
Anyone looking for an introduction to data journalism, including how to use advanced Microsoft and Google tools, how to extract data and use spreadsheets, and how to process data using basic formulas and visualizations, should check out the course.
The self-directed version includes the course syllabus, video lessons from Crucianelli, video interviews with guest speakers, transcripts of each video, and readings.
Guest speakers include journalist Itxaro Arteta Monteagudo, Mexican investigative reporter who won a recent data journalism competition from Microsoft and the Knight Center; David Monroe, Excel Senior Product Manager for Microsoft; and Miguel Martinez, PowerBI Project Manager for Microsoft.
So, check out the self-directed version of this course, and others on topics ranging from covering COVID to reporting safely, at JournalismCourses.org.