The Knight Center for Journalism in the Americas published the ebook "Diversity in Latin American Journalism," which features reflections from 16 journalists from seven countries on how to make newsrooms and news coverage more inclusive.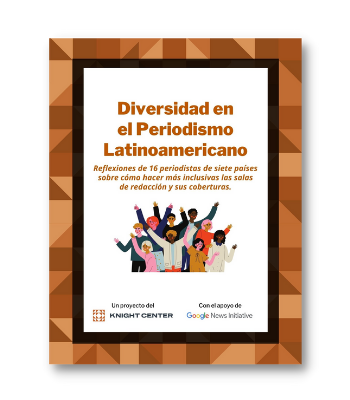 The pioneering ebook, available in Spanish for free download from JournalismCourses.org, was launched during an event with four of its authors at the annual conference of the National Association of Hispanic Journalists (NAHJ) on July 17, 2021.
The book is divided into four sections: gender, sexual orientation, racial and ethnic issues and disability.
The authors of the ebook are leaders in promoting diversity within newsrooms, and some have launched digital native media outlets for and by more diverse audiences, as pointed out by book editor Mariana Alvarado.
"As you will read in the book, Latin America is diverse and it is important that this diversity is reflected in the newsrooms," Alvarado said. "By having more diverse newsrooms, we have more pluralistic, more democratic newsrooms and that is the best way to contribute to quality journalism that serves all ethnic groups and different communities. We cannot continue to focus on just one segment of the population because our Latin American population is rich and diverse."
Lina Cuellar, author of an article on sexual orientation, underscored the book's importance by pointing to the fact that diversity, in general, is seen as isolated and characteristic of local contexts.
"However, Latin America presents high levels of explicit and symbolic violence (in terms of legislation, culture, police violence, access to resources, among others) against LGBTQ people, women, people with disabilities and racialized people and media and journalists cannot escape this reality," she said. "Wide-reaching institutions such as the Knight Center have the ability to establish regional dialogues around how journalism is addressing (or not) these issues both locally and regionally and how journalists can be trained to better handle them."
Asked why newsrooms should focus on diversity in all its forms, Andrea Medina, author of an article on disability, emphasized the social responsibility of the media.
"They must give an account of the events that occur in their communities, representing all people and therefore making the existing diversity visible," she said. "In the case of people with disabilities, it is necessary that they be represented as active agents, protagonists of their own news, since many times it is other people who speak for them and they persist with a welfare approach instead of one of rights."
Download the book for free now from JournalismCourses.org.
Watch video of the launch panel at NAHJ's annual conference: