By Teresa Mioli
October 29, 2021
On it's ninth anniversary, the Knight Center for Journalism in the Americas' Journalism Courses program of massive online training for journalists is celebrating a new milestone: It has reached more than 260,000 students from more than 200 countries and territories.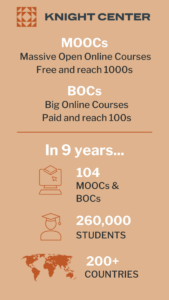 "It took us nine years, from 2003 to 2012, to reach 7,000 students in the first phase of our distance learning program intended to help journalists primarily in Latin America and the Caribbean. We could have never imagined that in the following nine years we would become global and reach almost 40 times more students: More than a quarter of a million students from basically all countries of the world," said professor Rosental Alves, the Knight Center's founder and director.
On Oct. 28, 2012, the Knight Center offered its first Massive Open Online Course (MOOC) with data visualization expert Alberto Cairo, Knight Chair in Visual Journalism at the University of Miami.
"Introduction to Infographics and Data Visualization" was offered in English to 2,000 students from 109 countries and was a sign of the success to come for this important distance learning program.
"We had to close registration for Alberto Cairo's first MOOC because we were not sure the system would hold more than 2,000 students. A few weeks later, we offered the course again, with 5,200 students from all over the world and all worked well. We proved the concept," Alves said.
Nine years later, the program has offered 104 online courses on a variety of topics and cutting-edge skills that help journalists to be equipped and prepared to adapt to the rapid changes created by the digital revolution.
Keeping up with the digital revolution
Cristina Lai Men, a radio journalist in Lisbon, Portugal, has completed about 20 MOOCs with the Knight Center.
"The currentness and diversity of topics, the format of the course – allowing everyone to follow their own pace – are excellent for those who want to keep up with the transformation in the media world," Men said. "In each one, I learned new things that helped me with my writing assignments, making me feel more confident as a journalist or arousing curiosity in new areas."
And it's not just professional journalists who take the courses. Students, professors, designers, librarians, photographers, social media users, scientists and people in other professions have all benefited from the program.
The Knight Center, along with UNESCO and the Special Rapporteurship for Freedom of Expression of the Inter-American Commission on Human Rights (IACHR), has even offered courses on freedom of expression specifically for judges and judicial operators.
"The only program, in these nine years, that we have offered that was not meant for journalists was 'The International Framework of Freedom of Expression and Protection of Journalists.' With its various editions in Spanish, this MOOC has reached around 12,000 judges and other officials of courts in Latin America and Spain," Alves said.
After taking the courses, journalists from around the world have used the knowledge gained to improve or start their own projects, including podcasts, special reports or even media companies.
Justin Wier of New Castle, Pennsylvania, explained the "profound" impact that a 2018 Knight Center course on data journalism, "Introduction to R for Journalists," with Andrew Tran, had on his life.
"Learning R allowed me to wrangle and analyze datasets that Excel couldn't handle, opening up new avenues in my reporting, and I became something of a data guru in the Youngstown Vindicator newsroom, helping others when they had problems they couldn't manage," Wier told the Knight Center.
Wier decided to return to grad school and pursue a degree in data analysis, a decision he says he's not sure he would have made without the course.
"I just received my master's degree this summer, and I'm currently interviewing for data jobs," Wier said. "That may not have happened had I not stumbled upon the Knight Center's MOOC and signed up on a whim."
Patricia Ventura of Barcelona, Spain, was also inspired to pursue a degree after taking a Knight Center course on news algorithms in 2019 with Nicholas Diakopoulos.
"I have to say that I liked one of them so much that I decided to go further and do a PhD that I started two years ago and I hope to finish next September," Ventura said. "So I can say that the UT Knight changed my life in a totally positive way."
For Ashutosh Nilkanth, who is from India but now lives in Melbourne, Australia, the course on news algorithms led to the creation of New Sloth, a software that aggregates content and helps customers track news, current affairs and deep information.
"My idea was to allow scalable aggregation of industry news, and unsupervised machine learning algorithms on top of it, to help professionals in their research, analysis, and easier decision making," Nilkanth said. "With more clarity through the course and its suggested reading, I built the software product with a tiny team, no outside investment, and feedback from some industry end-users. A year or so later, I launched it as New Sloth.
"I'm thankful to the Knight Center and its experts for sharing their knowledge, and helping students and aspirants around the world," he added.
In Brazil, students Lucas Thaynan and Graziela França took an introductory online course in data journalism from the Knight Center in 2015 when their university went on strike.
Thaynan was selected to participate in an event at Google following the MOOC. In 2017, he, França and a college friend launched the data journalism agency Tatu, which is in a region of Brazil with a high concentration of news deserts.
"I think if it weren't for the Knight Center, Tatu wouldn't exist today," Thaynan said.
Adapting to new challenges
With the emergence of the pandemic in 2020, the Knight Center teamed up with UNESCO, the UNDP and WHO to offer courses on covering COVID-19.
"In a little more than a month after the pandemic was declared, we had a MOOC ready in four languages. Thanks to the support of the UN agencies, we immediately helped thousands of journalists around the world who were struggling to cover COVID-19," Alves said.
In addition to that first MOOC in May 2020 focused on the pandemic in general, instructor Maryn McKenna taught another MOOC in 2021, this time focusing on covering the vaccines.
Both MOOCs were originally offered in English, Spanish, Portuguese and French, and attracted nearly 12,800 students total.
The courses have since been translated into additional languages, including Arabic and Hindi, and are available as self-directed courses that anyone from anywhere in the world can take at any time.
"The 'Covering the COVID-19' course gave me in-depth knowledge about issues on the pandemic that shaped some of my articles I covered earlier on about the pandemic," said Esther Nakkazi, freelance science and technology reporter in Kampala, Uganda. "The readings, which were carefully chosen, gave me a chance to read what I could have missed from other journalists and also informed me about what was happening elsewhere in the world to broaden my understanding of global issues about the pandemic."
A variety of course offerings
In addition to the MOOCs and the self-directed courses, the Knight Center offers BOCs (Big Online Courses).
MOOCs are free courses, usually introductory and with a wide focus, that attract thousands of students, while BOCs are paid and cover more advanced or specific topics. BOCs are also meant for just a few hundred students, allowing for more interaction with the instructor.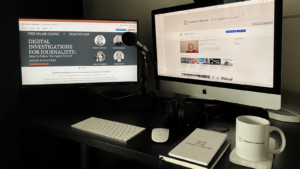 MOOCs and BOCs are instructor-led, but the Knight Center also offers self-directed courses, usually produced with materials repurposed from MOOCs.
All courses are asynchronous, with no mandatory activities on specific days or times. But instructor-led courses take place during a set number of weeks when students have access to the instructor and discussion forums where they can exchange ideas or troubleshoot issues with one another.
Self-directed courses can be taken at any time, but do not have the participation of an instructor or the benefit of discussion forums.
In 2020, the Knight Center launched JournalismCourses.org, which is the new home for its distance learning program. This is where students can access courses, ebooks and other resources to help them stay up to date with the digital revolution and its impact on journalism.
The Knight Center hasn't accomplished everything in the past nine years alone, but has done so with the support of the John S. and James L Knight Foundation, its main funder, and other generous sponsors and partners, such as Google News Initiative, Microsoft, UNESCO, Organization of American States (OAS), the World Health Organization (WHO), the United Nations Development Programme, the International Women's Media Foundation (IWMF), Chicas Poderosas, the National Association of Newspapers in Brazil (ANJ), the Society for News Design and others.
"We are so grateful for the generous support of our funders and partners throughout the years, and our work wouldn't be possible without them," said Mallary Tenore, associate director of the Knight Center for Journalism in the Americas. "We're also proud to have worked with some of the world's top journalists, who have been instructors for our online courses. They've shared their knowledge and expertise, and helped us create peer to peer learning communities with journalists from around the world. We thank all of the 260,000 students who have taken our courses and who have reminded us of the impact that our program has on journalists and newsrooms globally."
Knight Center for Journalism in the Americas
Founded in 2002, the Knight Center for Journalism in the Americas in the Moody College of Communication at the University of Texas at Austin offers training and programming to keep journalists around the world up to date with the digital revolution. Its online course program, Journalism Courses, has reached 260,000 students in 200 countries and territories around the world. It's trilingual digital magazine, LatAm Journalism Review, reports on journalism and press freedom in Latin America and the Caribbean. And its International Symposium on Online Journalism (ISOJ) convenes thousands of journalists, media executives, academics and students to discuss the present and future of online journalism.